The Banker names BBVA the most innovative bank in Europe
The Banker, a magazine part of the Financial Times group, recognized BBVA at its annual awards as the Best Bank in Europe for Innovation in Digital Banking. The magazine gave this award to BBVA for being the first bank to allow its business customers to measure their carbon footprint, helping customers make the best decisions to improve their financial health and the bitcoin trading and custody service launched in Switzerland for private banking customers.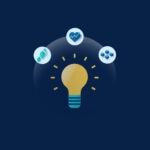 At the award ceremony, The Banker underscored that BBVA is at the forefront of innovation in all the countries across its geographical footprint, but especially in Europe. "BBVA's digital transformation efforts in recent years have paid dividends during the Covid-19 pandemic. Not only was it able to remain operational and continue supporting customers, but also kept up its pace of innovation."
BBVA's digital transformation effort in recent years has proven to be a tremendous advantage in the challenging circumstances caused by the global Covid-19 pandemic. Thanks to its digital capabilities, the bank was able to stay open and continued to support its customers during the toughest times of the pandemic, as well as implement a successful remote working strategy across its organization, all while increasing digital sales, customer onboarding rates and maintaining its innovative momentum.
"Despite the difficult circumstances, BBVA has continued to focus on innovation to help our customers tackle major challenges such as becoming more sustainable or achieving financial health. In addition, this year, we have continued to build value propositions in blockchain technology with the launch of the first bitcoin custody service offered by a bank in the eurozone," said David Puente, global head of Client Solutions at BBVA. The executive thanked The Banker for the award as recognition "for a strategy that goes back more than decade and that is becoming increasingly visible in pioneering and unique services designed to bring the age of opportunity to everyone."
Being the first bank in the world to allow its business customers to measure their carbon footprint, based on an advanced analysis of financial data from their bank accounts at BBVA or any other bank; renewing the suite of personal financial management tools (PFM) integrated into its mobile app to provide customers with a global and integrated view of their financial situation and thus help them better manage their finances; or being one of the first major banks to implement a cryptocurrency trading service through its franchise in Switzerland, as it is the only country with cryptocurrency regulations, are great and innovative initiatives, which led The Banker to award BBVA for being the most innovative bank in digital banking in Europe.
This anticipation, in addition to being a competitive advantage in innovation, also sets the bank apart because it always puts BBVA customers at the center of its strategy.
For example, BBVA offers companies a service that allows them to obtain essential information in the transition to a more sustainable business model by enabling them to calculate their carbon footprint. All this at a time when sustainability is at the top of the agenda of society and all major stakeholders.
BBVA is also committed to helping customers and non-customers alike achieve their life goals. In addition to providing a comprehensive view of their economic situation, it goes one step further by suggesting changes to help them take control of their finances. These tools are showing a particularly high usage rate and are one of the main features that generate greater engagement and have driven the use of the application.
Not to mention one of the most unique services offered by BBVA Switzerland, the bitcoin service. Current systems for buying, selling and the custody of cryptocurrencies are not easy to use (custody is complex) or are offered by non-banks that are not that reliable. The service has been developed with the highest standards of security, user experience, and regulations and allows customers, with the BBVA app, to view their positions in the assets and currencies they hold: balances in fiat accounts, their position in securities, their balances in other assets and those in bitcoin, narrowing the gap between financial services and users of blockchain networks.