The coronavirus crisis has proven to be a catalyst for workplace flexibility. Companies around the world urgently accelerated their digitization processes in order to first cope with the lockdown measures established in the early days of the pandemic, and going forward to design a new approach to the world of work. If technology served as the primary ally during the initial phase of this transformation, work-life balance is now positioned as the most significant challenge to overcome. BBVA is already preparing for this new reality, evolving its flexible work model, which it implemented two years ago, to cater to the new reality. The bank is responding to important challenges like the use of physical space, goal setting, the new profile of leadership, and employee empowerment and engagement.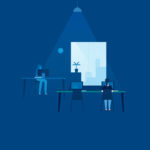 The global COVID-19 pandemic has turned people management on its head, especially in large organizations. Thousands of workers have had to convert their homes into places of work, almost overnight. Skepticism of teleworking, harbored in some quarters, dissipated for lack of any other viable alternative: remote working was the only recourse to ensure companies could continue their normal business activity, providing uninterrupted service to their customers during the crisis.
"The day lockdown began in Spain, 98 percent of our employees were already working remotely," explains Imma Catalá, head of Strategy and Solution Development in the Talent and Culture area. This was a considerable challenge that the bank was able to tackle thanks to its commitment to technology and flexible approach to work. "Over the past five years, the bank has made great strides in developing a new people management strategy. A strategy founded on trust in its employees who, aligned around a common purpose and set of values, do their all when they are empowered and given the means and flexibility to develop their full professional potential," she explains.
The bank's digital transformation process has been applied to more than just its technological transformation, including the development of many areas related to human resources. "We realized that this process required a new digital work culture, new models of work, and that we needed to evolve towards a digital work environment," Catalá explains.
The outbreak of the pandemic stretched remote working models to their limits, and only those companies that had previously and proactively embraced remote working were able to successfully and quickly adapt. "At BBVA, we had prepared ourselves without even being aware of it. Our transformation, based on trust in our employees and an agile approach to work, has put us in a position to face the crisis without a loss of productivity," she says.
Lessons learned and new challenges
Over the past few months, the bank has verified that remote working en masse has benefited goal-oriented working over merely 'putting in the hours.' It has also confirmed that employees appreciate this flexibility and that technology can handle the load of so many remote connections, permitting virtually every kind of operation. Telecommuting and job flexibility seem to be key levers in the new workplace reality. Nonetheless, this experience has also brought to light challenges that will need to be addressed in the coming months.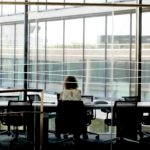 "We have identified that telecommuting is not ideally suited to every kind of job. For example, for specific creative and innovative roles that require greater interaction between teams or roles that require very specific modes of work," Catalá stresses. Physical distance represents another challenge when faced with nurturing a corporate culture and sense of belonging among employees: "During months of remote working, we have launched various initiatives and communication tools. They have been well received by the teams, but this is something we will need to continue working on."
Work-life balance is also an aspect that needs to be revisited in a context when the lines between work and home are being blurred; the delineation between personal and professional lives has been muddied. Catalá explains, "This is some of the homework we have to do for the next 'school year' — together with shaping a new leadership style, one that is adapted to a reality where work is less centralized and is based on trust."
Physical work space in a post-COVID world
The en masse remote working that took place during lockdown will cause a rethinking of the workplace setting. Paradigms have been broken, disabusing notions about the perceived limitations of remote working. Perspectives about the value-add of physical workplaces have been revised. Everything seems to indicate that the post-COVID reality will lead to a flexible coexistence between on-site and remote working, with the emergence of new rules and models to ensure suitable coordination and productivity.
"We are witnessing a revolution with respect to the physical workplace. It will become a place where we meet to co-create, to invigorate teams, to socialize and nurture a sense of belonging. At BBVA we are already moving towards a hot-desking approach, where we reserve our spots when we go into the office. It is much more dynamic," Catalá maintains. The bank is formulating three directions with regard to the corporate workplace: "First, as a central meeting place for employees where we share our culture and values and we create a sense of belonging, giving employees a feeling of community. Also as a place that fosters innovation where team dynamics are versatile and creative. And finally, to provide a place for those employees who cannot work from home for technical or logistical reasons.
In the case of the bank's network of customer-facing offices, the branches "will play a fundamental part in providing customer service" with a focus on providing value-added advisory services. Consequently, branch offices will be spaces primarily created with the customer in mind, where employees are provided the tools they need to do their jobs and where they carry out the front office planning and follow-up functions.
"After everything we have learned and everything that's still to come, we imagine that the future will be much more flexible. And this will give us the opportunity to work better and smarter, building upon the foundation of our strategy for and with our employees," she concludes.