Vita Inclinata Technologies wins BBVA Entrepreneurial Opportunity Contest in Denver, eligible for $50,000 grand prize
Vita Inclinata Technologies has been named the winner of BBVA's Entrepreneurial Opportunity Contest in Denver, winning $10,000 towards enhancing their operations. The company is focused on delivering the first agnostic, autonomous suspended load stability system for both earth and space applications.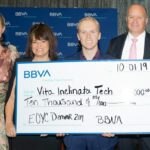 The idea came 10 years ago when company CEO Caleb Carr was on a search and rescue mission in the state of Oregon. One of Carr's friends collapsed from a heart attack and the ensuing emergency helicopter had to pull out of the remote area, as they were unable to lower a rescue basket because of its uncontrolled, pendulum-like swing in violent weather conditions.
"We are ecstatic for Vita Inclinata and their truly admirable mission," said BBVA USA Colorado CEO Andy Wykstra. "It's amazing what the difference between life and death is, and I commend their belief that the lack of technology shouldn't be the deciding factor. In a state like Colorado, which has ample hiking and camping opportunities, this is truly innovative and needed. Teaming up with the Business Journals to bring this amazing contest to Colorado was as exciting as I expected it to be. I want to again commend our winner, their team, and their extraordinary business model. Their win was more than well-deserved."
During the contest, five finalists pitched their business at the event, where a panel of judges, combined with public online voting, selected the winner. The event took place at the Westin Downtown Denver.
Vita Inclinata Technologies will now be eligible to win the $50,000 grand prize as they face off against winners from other markets where the contest has been held. One more contest will be held in Phoenix before the final contest for the grand prize takes place. The contestants vying for the grand prize, not including the Denver winner, are as follows:
The overall contest was launched earlier this year in four different markets, with the bank teaming up with The Business Journals for the initiative. The campaign aims to garner funding for an established area small business that demonstrates an innovative service, product or business model.
The contest is open to small business owners that have been established for a minimum of two years as of the date of entry and have at least $1 million in annual revenue.