"Investors welcome the tangible results yielded by BBVA's transformation"
"I love food and I am mad about sports." Hearing him talk about his hobbies, Jaime Sáenz de Tejada (Madrid, 1968) comes across as someone who enjoys life. As a kid he was into basketball and track and field. Later, he got interested in paddle tennis and golf. About a year and a half ago he fractured his thigh bone forcing him to focus a bit more on swimming and cycling. He defines himself as a lover of Peruvian cuisine, because it offers "the best fusion of sensitivities from many places, with ingredients of unparalleled quality." He's even given cooking chifa (a fusion of Peruvian ingredients and traditions with Cantonese elements) a go, but "being surrounded by so much talent, I would never dare to compete in culinary skills." Married and with five children – "one of them is on his way to becoming a chef, just like his mom,"- he's been a part of BBVA for more than 25 years. In 2014 he became the Group's Chief Financial Officer. He devotes most of his scant free time to "living his children's education intensely and sharing activities with them." He's been lucky to live in New York – at two different periods - , London, Uruguay and Peru.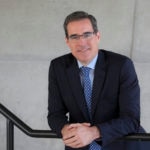 He graduated in Law and Economics and Business Management, and completed a program in general management at IESE. In 1993, he left Arthur Andersen to join what would later become BBVA. He took up important positions in New York, Uruguay, London and, again, New York, before taking full responsibility for the Corporate and Investment Banking area in the whole American continent. Next he moved to Lima (Peru), after being appointed CEO of BBVA Banco Continental, the country's second largest bank. And after 15 intense years of international endeavors, he returned to Spain in late 2007 to be BBVA Spain's central region director. In 2011 he was named head of business development and in May 2012 he became the head of BBVA in Spain and Portugal. This broad experience across such a variety of positions is what has helped him to keep an "open mind." When he looks back, he believes that his personal and professional journey has instilled in him a "culture linked to change" with the ultimate goal of "being better every day." A "detail oriented" person, he believes that "this must be our true obsession."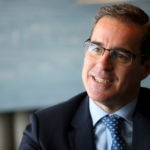 Jaime Sáenz de Tejada is Spain's best CFO and the best in Europe's banking industry, according to the Extel Survey.
What's a day in the life of a BBVA CFO like?
Really varied. The bank's international diversification requires us to stay on top of everything. In a globalized world, anything can have an impact on us. First, I would have to say financial, liquidity management, meaning liquidity and financing, as well as bond issues and constant interaction with investment banks; as well as managing interest rates and exchange rates. A second area is helping dynamically allocate resources – human and financial – to those projects we feel are going to have a greater impact on the bank's transformation through SDA (Single Digital Agenda) 2.0. In the process of allocating financial resources, procurement division has a significant role. This task demands a huge deal of co-responsibility and commitment from everyone to prioritize projects in other areas. Also, we are an intensive user of data, in terms of both quality and quantity, as the development of analytical skills allows us to make better decisions in the future. Thirdly, we're in close contact with the business units, in the planning and management control process, understanding what their dynamics are like. The fourth most time-consuming activity for me is communicating the whole transformation process to investors, shareholders, analysts and rating agencies, and processing their feedback.
How would you define your way of working? What are the defining traits?
I would say I'm approachable and cheerful. I encourage all the members of my team to speak up, because that helps making many joint decisions. I delegate a lot, but at the same time I am very detail oriented and I want the best quality work.
You've been married almost as long as you've been in the bank...
Yes, practically. These 25 years have gone by really fast. I believe the bank allowed me to live two lives – personal and professional – with an extraordinary intensity. For example, I remember being in London when the euro arrived; the dot.com bubble and Enron crises, the terror attacks on the WTC in New York; my fifth son was born in Peru and we experienced first-hand the Pisco earthquake.  Back in Spain, the way the crisis was handled ten years ago helped me become aware of our bank's tremendous management skills. We're capable of facing anything that life throws at us as a team.
I believe the bank allowed me to live two lives – personal and professional – with an extraordinary intensity
Jaime Sáenz de Tejada has been with the BBVA Group for 25 years.
Very few people know BBVA as well as you do. What defining feature would you underscore?
At BBVA we're always open to change. Due to the very volatility of the markets in which we operate, we've become used to being extremely flexible, to always work with an eye on the future, to anticipate what might come and develop mechanisms and procedures to face any situation. And this defining feature is, maybe, more evident now than ever before. The transformation process is picking up speed at exponential rates as a result of digitization. With a vision as clear as the one we have, we're going to make history.
Where is BBVA today?
We're at a pivotal point. We've left behind a very complex crisis management situation in our main geographical area, Spain. Now we're focusing our efforts on leading the transformation of the financial sector.
For yet another year, analysts and investors have singled you out as the best CFO in European banking and as the best in Spain, according to the Extel Survey. What was your reaction to this recognition?
It is a recognition for the bank. Investors and analysts know, on the one hand the accessibility in our communication: we need to stay close to them and be transparent, because that's the only way to build trust. And we also need to be consistent in our messages. In this sense, BBVA remains a benchmark. They use us as a standard-bearer, as a result of the bank's tremendous capability to analyze and understand the impact of regulations, business dynamics and how they affect the financial system.
What do investors think about BBVA's strategy?
Investors welcome the fact the transformation is starting to yield tangible results. In recent years, everyone's recognized that we were one of the first to identify the disruptive power of digitization. We've been working on it longer than any other bank. We're capable of generating, better than any other institution, a 'track record' of variables that evidence the positive impact of digitization. And I'm not referring only to the costs, the structure and the productivity of the business model, but to customer satisfaction and the surge in digital sales. We're seeing impressive digital adoption rates among our customers. 43% of all sales YTD as of the end of May in Spain were made through digital channels. Just three years ago, digital sales hardly existed.
Were you expecting this dramatic increase?
Eight or nine years ago somebody told me that mobile phones were going to become the link of interaction between the customer and the bank. Back then I couldn't wrap my head around this idea.  Today, nobody even doubts the disruptive power of mobile technologies. Sincerely, I'm amazed at how fast customers have embraced this change and made it part of their lives. And not just the youngest, but also older people. It is just so much more convenient and easy to do things for yourself, wherever you are, 24 hours a day.
43% of all sales YTD as of the end of May in Spain were made through digital channels. Just three years ago, digital sales hardly existed
What strengths and weaknesses does the market perceive in BBVA?
Right now, the recognition of the financial strengths of the bank is unanimous. We surprise (the market) quarter after quarter. In the first three months of this year the performance of the developed markets stood out. Narrower losses linked to the real estate portfolio are allowing Spain to showcase its true earnings potential. In the United States, interest rate increases and significant productivity gains are driving exponential growth in results. And, probably, Mexico and Turkey's excellent results are being practically overshadowed by the electoral calendar in both countries. Uncertainties are making investors behave more carefully, and this affects the share price.   I'm convinced that, as soon as the elections are over, the bank will gain traction again, because results are good.
How do you think earnings will pan out for the rest of the year?
I think we will continue to deliver good growth in the top line and further improvements in productivity and efficiency. Cost containment will continue to be one of the indicators of the bank and we expect another good year in cost of risk. I'm sure digital sales will continue to grow and that we'll go beyond the 50 percent mark in digital customers. Overall, we will remain a reference point.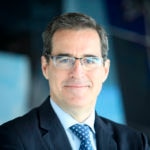 During his professional career with BBVA,  Jaime Sáenz de Tejada took up important positions in places like London, New York or Lima.
Does the market recognize the edge over the competition?
The main advantage they recognize we have is our decidedly sharp and grounded vision of the future as a result of the conviction of the bank's top management. They also recognize our ability to execute strategy, which has always set the bank apart.
Ratings agencies have given BBVA reason to celebrate in the past few months. What's behind the ratings upgrades?
It is a recognition of the business model, governance and appetite for risk of BBVA, which has allowed the bank to steer a course through the truly troubled waters of the past few years. We shouldn't forget that BBVA was for many years one of the few private banks in the world with an AA rating from the main agencies. Then came the 'annus horribilis' of 2011/2012 when in barely 12 months we almost lost investment grade recognition by almost all the agencies as a result of the evolution of Spain's sovereign rating. Since then, we have shown the sustainability and robustness of our business model. BBVA's international diversification has allowed it to avoid losing money in any year during the economic crisis. That is something few financial institutions in Europe can say. In the past few months, we've reached an A rating from all the agencies, the most recent being Moody's.
As a global bank, does the sovereign rating weigh too heavily on BBVA?
This is something that will ease as banking union progresses and the bank resolution framework is completed to allow the creation of a common deposit guarantee fund in Europe. Then, the intrinsic strengths of BBVA will be the only factors driving its rating. The bank of course will emerge stronger from this.
BBVA was for many years one of the few private banks in the world with an AA rating from the main agencies
Ten years have gone by since the global financial crisis broke. How healthy is the Spanish financial sector?
Spanish society has shown tremendous maturity in coming to grips with the fallout of the crisis, taking very difficult decisions. The same can be said for the financial system and BBVA. This effort has helped very significantly to improve solvency levels and reduce leverage. The financial system has notably improvement corporate governance and the organizational ability to foresee adverse scenarios. We're better prepared to face the next crisis and the public won't have to bear the cost of this. Things remain pending such as profitability. There are still many Spanish institutions and in the rest of Europe that can't cover the cost of their capital.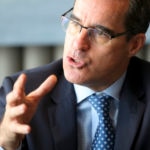 According to Jaime Sáenz de Tejada, BBVA is always open to change.
Do you think this could lead to more cross-border acquisitions among banks?
The minimum market shares needed to build sustainable business models keep on rising. Digitization is speeding up the process. Some smaller institutions are going to find it very difficult to generate the profits demanded by the market. It is likely then merger opportunities will arise in local markets. International deals are more complicated, particularly without advances toward banking union. Cost synergies are key in merger deals and at the moment these are hard to achieve in cross-border operations.
We need people who are very curious, flexible, open, ready for change who are constantly learning and developing themselves
Moving on to the question of talent. What profiles is the bank looking for and what type of skills are needed?
More than ever banks need people with the right attitude. We need people who are very curious, flexible, open, ready for change who are constantly learning and developing themselves. The pace of change is greater and because of this, these skills are the most important factor. That said, we also need to develop abilities and skills to speed up transformation. For example, data scientists, specialists in digital marketing and customer experience are catalysts of change. These new profiles married to our traditional strengths - commercial, financial and risk management– are building the banker of the future.
How do you see the bank five years from now?
I would say a bank closer to its customers and clients, making reality our purpose of bringing the age of opportunity to everyone. We will help customers and clients make better decisions as a result of a more sophisticated treatment of data. It will also improve customer satisfaction as a result of five more years of working, thinking and being with the customer as the core of its strategy. It will have standout levels of solvency and profitability among its rivals. And this of course will have positive consequences for shareholders.
Is there anything else you would like to share with us?
BBVA is a great bank. It's the best bank. And that should be our obsession: to make the best bank a reality for all interest groups, starting with the customers and clients, extending to employees and of course our shareholders.