May unemployment figures suggest recovery underway, according to BBVA Research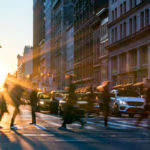 The report indicates that, in addition to lower unemployment numbers, the labor force participation has increased in may by 60 basis points, reaching 60.8 percent. The employment-to-population ratio rose 1.5 basis points to nearly 53 percent, up from its lowest level on record.
Government support programs like the Small Business Administration's Paycheck Protection Program appear to have been effective in incentivizing rehiring even if firms are not seeing a pickup in revenues. For example, the report notes that sectors seeing strong job gains include construction, ambulatory health services, retail, manufacturing and administrative and waste services. The oil and gas sector and air transportation continue to face headwinds, however.
Led by Nathaniel Karp, BBVA USA's research team analyzes the U.S. economy and Federal Reserve monetary policy. For its analyses, the economists create models and forecasts for growth, inflation, monetary policy and industries. The Economic Research team also follows a variety of issues that affect the Sunbelt states where BBVA USA operates.
Follow their work on Twitter @BBVAResearch and @BBVANews_USA.
Read the full report here.
---
See the complete library of BBVA Research publications here.