The National Basketball Association (NBA) and BBVA, the league's official banking partner, today announced the schedule for the second annual NBA 3X Tour presented by BBVA that will visit eight cities in Spain from May - October. Combining a competitive 3-on-3 tournament with free fun interactive basketball activities for fans of all ages, the NBA 3X Tour presented by BBVA will tip off in Malaga on May 11-12, featuring NBA Legend Ron Harper and the Detroit Pistons Flight Crew, culminating in the National NBA 3X Finals on October 4-6 in Bilbao.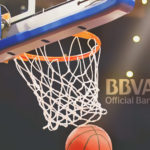 The NBA 3X Tour presented by BBVA will provide young basketball players with the chance to experience the NBA firsthand in a free, family environment and to pit their skills against their friends in a competitive tournament.
"BBVA brings to Spanish people the NBA, the world's best basketball league. BBVA and the NBA share the values of excellence, effort and teamwork promoted by this sport," said Carlos Ricardo, Global Director of Marketing, Advertising and Sponsorships of BBVA. "The NBA tour combines basketball competition with recreational activities, and offers young basketball players throughout Spain and their families the opportunity to live the NBA experience in their own country."
The tour will see appearances from players past and present including NBA legends Bruce Bowen, Ron Harper and Robert Horry, who have a combined 15 NBA titles to their name. The Philadelphia 76ers rising star and 2013 NBA All-Star Jrue Holiday and the  2012 NBA All-Rookie First Team selection Kenneth Faried of the Denver Nuggets complete the list of NBA stars appearing.
"The NBA 3X Tour presented by BBVA combines a 3-on-3 tournament for players of all ages and playing abilities, with an authentic NBA experience where fans can live and breathe the NBA," said Jesus Bueno, NBA Vice President, European Development. "Together with BBVA, the NBA 3X Tour is a further step in growing basketball and providing participation opportunities for fans in Spain."
Activities include the BBVA Knockout, adidas Skills Challenge, Eagle Slam Cam, Spalding pop-a-shot, Sprite Slam Dunk Contest and many other clinics and contests.  Live DJ's, autograph sessions, appearances by current and former NBA players, dance team  and acrobatic dunk team performances, NBA merchandise giveaways and much more will keep fans entertained each weekend.
The tournament is open to boys and girls comprising of four-player teams in the following age groups: U-12, U-14, U-16, U-18 and 18+. The overall NBA 3X Tour presented by BBVA winners will be determined via a single-game elimination tournament at the National 3X  Finals in Bilbao on October 4-6, to coincide with the NBA game in Bilbao that will see the Philadelphia 76ers play Uxue Bilbao Baskets on October 6 as part of the NBA Global Games 2013 presented by BBVA.
For information and to register teams, fans should visit: http://www.facebook.com/NBAEspana/events. Fans are encouraged to register as soon as possible as spaces are limited.
The inaugural NBA 3X Tour presented by BBVA featured over 1,300 teams and over 5,200 players and 147,000 fans in the summer of 2012.
NBA 3X will be conducted in 14 countries outside of the US this summer, including in several European countries, with details to be announced shortly.
Joining BBVA are event partners adidas, Bilbao (in Bilbao), Eagle Snacks, City of Barcelona (in Barcelona), Spalding and Sprite. Sport newspaper is the official media partner of the tour.
NBA 3X Tour Schedule:
May 11-12: Malaga, with Ron Harper (NBA Legend)
May 18-19: Valencia, with Jrue Holiday (Philadelphia 76ers)
June 8-9: Madrid*, with Robert Horry (NBA Legend)
July 13-14: Vigo, with Kenneth Faried (Denver Nuggets)
July 20-21: Barcelona, with Kenneth Faried (Denver Nuggets)
Sep. 14-15: Barcelona, with Bruce Bowen (NBA Legend)
Sep. 21-22: Toledo*, with Bruce Bowen (NBA Legend)
October 4-6: Bilbao (TBD)* to be confirmed