New vehicle sales stronger than expected in 2Q20, according to BBVA Research Auto Sales Chartbook
BBVA Research published its July auto sales chartbook, noting vehicle sales exceeded expectations for the quarter, resulting in an upward revision to the economists' annual forecast.  However, sales were still 33.7 percent below levels observed in 2Q2019, the worst decline since 2Q09.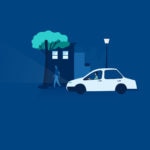 After a sharp contraction in April, sales increased in May and June, supported by fiscal stimulus and the partial reopening of the economy, according to the chartbook.  Despite improving figures, the chartbook cautions that sales are likely to remain subdued through the remainder of 2020 as the pandemic continues to wreak havoc on economic activity.
The chartbook, authored by BBVA Research Principal Economist Marcial Nava, forecasts that sales could be affected in the long run by changes in consumer behavior resulting from the pandemic, including people relocating away from urban areas and the increasing rate of remote work among employees across the U.S.
Read the full auto sales chartbook here.
---
See the complete library of BBVA Research publications here.