When it comes to 21st century banking, there is no shortage of terms bandied about that those in the industry are expected to know. Among the more obtuse are those related to banking's next frontier, open banking.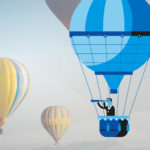 You might be thinking, "Open banking? Aren't we talking about Open APIs?" In a word, no.
Still others may use open banking and Banking as a Service (BaaS) interchangeably.
For all of you, I'm here to say that each of these terms is not the same and definitely not interchangeable. They do all relate to a singular concept of giving third parties access to the bank's data and/or functionality to build new or different experiences and products for customers.
Let's take a closer look at the terms.
Open Banking
According to Investopedia, open banking is a system that provides a user with a network of financial institutions' data using application programming interfaces (APIs). By opening APIs to sharing, third parties have easier access to financial information, which allows them to build new and different apps and services. The UK, for instance, has created an Open Banking Standard that allows consumers to access their financial data more easily and securely, with one utility of this being that they can manage their wealth easier and transfer banking services in a simpler manner than before. The UK's Open Banking Standard also gives developers more latitude in creating new services and tools for banking consumers to manage their finances. In the European Union (EU), this regulatory initiative is called PSD2. In the US, which doesn't have a regulatory initiative like the UK or EU, consumer expectations, rather than formal decree, are driving innovation around customer data and creation of banking functionality to third parties
Open APIs
APIs simply allow the sharing of information between systems, while open APIs refers to a publicly available interface that gives access to the sharing of data or functionality. In open banking, open APIs give third parties access to a financial institution's customer data (with the customer's permission) or to the financial institution's service offerings and their functionality. This is important because it can allow customers to have better control over their own data and gives third parties the ability to create value added services for customers. For instance, personal finance company Mint relies on access to bank data which they obtain through open APIs to create new and valuable ways for consumers to visualize and understand their financial information. Mint's service wouldn't be possible without both open banking and Open APIs.
Banking as a Service (BaaS)
On the surface, Banking as a Service may sound similar to open banking, as both provide the user access to a financial institution's platform. The difference, as this article from BBVA points out, is that while open banking provides third parties access to the data of existing bank customers, Banking as a Service provides third parties access to bank functionality, so that non-bank companies can connect users outside of the bank's existing footprint to banking services. For instance, open banking allows for services like Mint to access their customer's banking data and view it in new and interesting ways; while  Banking as a Service gives a provider, like technology company Simple, the ability to build its own, differentiated experience for its customers, under its own brand, supported by the bank's existing infrastructure and expertise.
---
For more on the differences between open banking and Banking as a Service, read 'How does Banking-as-a-Service differ from open banking' by clicking here.
For more on BBVA Open Platform, click here.