On April 4 the new €50 note will enter into circulation. This new note, presented on July 5, 2016 by the European Central Bank will be phased in gradually and will coexist with the preceding model, which will remain legal tender. Thus, the ECB completes another step in the rollout of the Europa series, and follows the €5, €10 and €20 notes, which have already been issued. Reinhold Gerstetter, independent banknote designer was selected to refresh the design of the notes.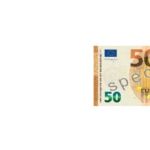 The new €50 notes still feature the design of the first series and show the same dominant colors, but have been slightly modified to accommodate a series of enhanced security features. This evolution includes a portrait window, a new and innovative security element, already used in the €20 note of this same series.
When looking at the new series' banknote against the light, the window near the top of the hologram becomes transparent and reveals a portrait of Europa – the Greek mythological figure to whom the continent owes its name – which was chosen to add a human touch to the notes.
Tilting the banknote, the shiny emerald number in the bottom left corner changes color from emerald green to deep blue and displays an effect of the light that moves up and down. Therefore, these security elements represent improvements in terms of translucency and relief elements to protect them against counterfeiting, while making it easier to verify the authenticity of the new note.  These advanced security features help protect our money and are part of our continued efforts to preserve the euro as a stable currency, a currency that 338 million people across the euro area rely on day by day.
The €50 is the most widely used euro banknote, accounting for 45% of all banknotes used by EU citizens, according to figures released by Yves Mersch, Luxemburg member of the Executive Board of the ECB. In Spain, also, the Bank of Spain's issue of this paper currency set a new record in May 2016.