Onur Genç: "Spain plays a key role in contributing to the success of BBVA's strategic priorities"
On February 27th and 28th, BBVA's CEO met with the new Head of BBVA Spain, Peio Belausteguigoitia and the team in the country. Onur Genç stressed that the Spanish franchise plays a key role in contributing to the success of the BBVA Group's six new strategic priorities.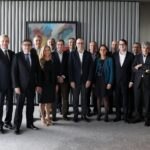 For two days, Onur Genç went over the plans BBVA Spain has underway for 2020 with employees, and how these plans are aligned with the Group's strategic plan. "Looking forward, BBVA Spain is the heart of the BBVA Group, and therefore, you play a key role in contributing to the success of the strategic priorities," he said.
BBVA's new strategic priorities are: improving customers' financial health; helping clients in the transition to a sustainable future and supporting inclusive economic development; increasing the customer base; striving for operational excellence; and doing so based on the two remaining priorities: the best, most committed team; and data and new technologies.
During the visit -- his third to the bank in Spain -- Onur Genç had the opportunity to meet with BBVA Spain's management committee, as well as all territorial and regional directors, and the teams in the main areas. BBVA's CEO thanks all the teams for their hard work and recalled that BBVA was the best bank in Spain this year in terms of results. Onur Genç underscored the "tremendous" work being carried out in digital transformation, which has led BBVA in Spain's banking app being selected as the best in the world for the third consecutive year. 
Meanwhile, the Head of BBVA Spain, Peio Belausteguigoitia emphasized that growth is fundamental in an environment with negative interest rates, like the present.  "Although the year has just begun, I'm optimistic about BBVA Spain's outlook for 2020," he said, pointing to the ambitious plans underway and the top-notch team to carry them out. Belausteguigoitia stressed the importance that BBVA places on providing customers quality advisory services. "In as business as 'commoditized' as ours, standing out from our rivals is crucial," he added.