BBVA has appointed Peio Belausteguigoitia as head of BBVA Spain, replacing Cristina de Parias, who leaves her executive duties after a successful career of more than three decades both inside and outside BBVA. Cristina de Parias will remain involved with the Group as she will join the board of BBVA's subsidiary in Mexico, once the necessary approvals have been obtained.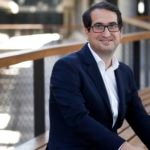 "Cristina has done an extraordinary job leading BBVA Spain, and Peio will continue with the success story of the franchise," said BBVA CEO Onur Genç.
BBVA Spain has consolidated its leadership in digital transformation in banking in recent years. In 2019, the bank's mobile app was recognized as the best in the world for a third consecutive year, according to international consulting firm Forrester Research. Digital sales over total units sold reached 52 percent in Spain at the end of the third quarter, compared to 27 percent only two years ago.
Peio Belausteguigoitia has a degree in Law and a diploma in Economics from University of Deusto. He joined BBVA in 1997 and gradually took on new responsibilities, first in Risk and later in business segments in different regions of Spain. In 2017, when he was director of the Northern Region, he was appointed head of Business Development at BBVA Spain, his role until now.
Gonzalo Rodríguez will replace Peio Belausteguigoitia as head of Business Development in Spain. After more than a decade at McKinsey, he joined BBVA in 2013 and in 2016 he was named head of Digital Transformation at BBVA Spain. In 2018 he moved to the Client Solutions area as global head of development of products and solutions for retail customers.
Luís Simões will assume Gonzalo Rodríguez's role as head of Retail Customer Solutions in the Client Solutions area. Luís Simões started his career at BBVA in 1998 in Portugal, and has held different positions in retail, corporate and commercial banking, with responsibilities over operations in various European countries beyond Portugal, such as Spain, Belgium, U.K. and France.