Holvi announced as a finalist at the 2019 Europas Awards
We just announced our expansion across the Eurozone, following 60% year-on-year growth from 2017 to 2018
Holvi CEO Antti-Jussi Suominen explains that the bank, recently a finalist in the Hottest Fintech category of the Europas Awards, now serves over 150,000 micro-enterprises across Europe, growing 60 percent (YOY) between 2017 and 2018.
A few weeks ago, we were thrilled to have been included in the shortlist of the Europa's Awards this year - an annual event in the UK tech calendar, bringing together founders and investors from across Europe. This year, the event was hosted in the gardens of the Geffrye Museum in East London - luckily the weather held out for it!
Holvi was named as a finalist in the Hottest Fintech category, rubbing shoulders with some of Europe's biggest players in the fintech market, including Divido, Curve, Monese and more. Congratulations to Auquan for taking home the gold in our category; we were obviously disappointed not to win, but there's always next year!
Alongside Auquan, previous winners of the award include Starling Bank, Revolut and Funding Circle, so to even be named as a finalist in the same category as these industry heavyweights is a huge honour for us.
Running for over ten years now, The Europas is a key event  in the startup calendar, celebrating and championing the hottest fast growth businesses from across the continent. At a time when the future relationship with the  UK and EU are in flux, this was a great opportunity to promote collaboration with some of Europe's up-and-coming tech companies and their investors.
Holvi has recently seen record growth; we just announced our expansion across the Eurozone, following 60% year-on-year growth from 2017 to 2018. With all the learnings we've gathered from expanding to new markets - we've seen the most rapid growth coming from Germany, which is why we've decided to turn it into our second home market, which will sit alongside our home country of Finland. In addition our presence in other Eurozone regions, including Ireland, Belgium, France, Italy and the Netherlands allows us to listen and learn the unique set of nuances each of these markets have.
Following this expansion, we now cover over 150,000 micro businesses across Europe.
Given our ambitions to help small businesses, micro-entrepreneurs and freelancers across the continent, being recognised in the shortlist at The Europas is a great feeling.
However, we're only just starting. As recently as June we launched our own German bank account numbers in Germany - one of our key markets - to help micro-businesses take payments from their customers as seamlessly as possible.  Even though there is European-wide legislation that allows us to operate across the continent, we recognise that often the context of banking remains local. For us this means that where we see strong demand, we are willing to dive deeper and localise our product even more for our customers. Offering our German customers a local IBAN makes life easier for them, and the people they serve. We've learnt that this is the best way to expand; focusing on markets one at a time, learning and adapting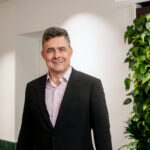 Holvi CEO , Antti-Jussi Suominen
The Europas are a shining example of how technology is disrupting different areas of our lives. This year, the Hottest CleanTech category recognised the real potential for technology to help address, and perhaps even turn around, the climate crisis.  Every single one of the finalists is helping to solve a specific customer challenge, and that is ultimately what is important: making life easier for consumers. This is at the heart of Holvi's mission and is why we partner with BBVA, as the bank is constantly seeking new innovation solutions for its customers.
Despite not winning gold, it was great to rub shoulders with some of the brightest and best fintech businesses, investors and journalists in Europe. I do not view our fellow finalists as competitors as such; we are all driven by a shared desire to do the very best for our customers. These awards are about championing one another, and driving ourselves forward to keep learning, keep improving, and keep on innovating.
Even so; keep your eyes on the prize next year!