The Houston Dash sent seven of their players to Rio last month for the Summer Olympics, more than any other team in the National Women's Soccer League.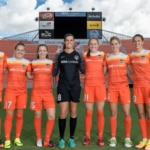 Now every time the team takes the pitch at BBVA Compass Stadium — and it will again on Sunday night against Seattle Reign FC for the last game of the season — it can say that it sent more Olympians to Rio than 63 entire countries, leaving a bright future ahead for the Dash.
The seven Olympic athletes spent a few hours with a handful of lucky fans at the stadium Wednesday night to answer their questions. So in honor of Houston's magnificent seven -- Carli Lloyd and Morgan Brian (U.S.); Lydia Williams (Australia); Andressa and Poliana (Brazil); Allysha Chapman and Janine Beckie (Canada) -- here are seven takeaways from the Q&A that you may not have known about these skilled footballers:
Both Brazilians on the team, Andressa and Poliana, enjoy a good meal from Chipotle Mexican Grill. "It's the closest thing here to Brazilian food with the meat and rice," said Andressa, who like many Brazilian athletes, prefers to go simply by her first name..
Even with her busy schedule with the U.S. Women's National Team and the Houston Dash, Carli Lloyd, who is engaged to high school sweetheart Brian Hollins, still has time to plan her own wedding: "I've actually been doing it all myself — just tackling one thing after another. I'm staying calm and organized."
If they were to pick any sport and any team, other than soccer, Allysha Chapman would be a starting left winger for the Toronto Maple Leafs ice hockey team and Morgan Brian would play basketball.
Janine Beckie logs a diary online so her trainers with the Canadian national team can track her health while she's playing with Dash.
Lydia Williams says her best memory outside of soccer was meeting her idol, Cathy Freeman, in the 2000 Sydney Olympics. Freeman became the second Australian Aboriginal Olympic champion that year after claiming first place in the 400-meter event.
The Olympians agreed that Poliana is physically the strongest of the group, and would be the one they'd pick to compete on "American Ninja Warrior."
Out of the group, Andressa can trash talk in the most languages – Portuguese and English.