BBVA integrates features for the visually impaired in its mobile banking app in Peru
BBVA's Peruvian subsidiary has become the Group's first bank in Latin America to have an accessible app, specifically for the visually impaired. This will enable users to carry out all kinds of operations in a simpler and safer way.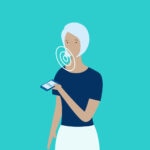 According to information from the National Institute of Statistics and Informatics (INEI), approximately 800,000 Peruvians have a permanent visual impairment, which is equivalent to 2.64% of the Peruvian population. This situation makes it difficult for them to perform actions that are commonplace today, such as using smartphone applications, including mobile banking from banks.
Taking this situation into account, BBVA en Perú has become the first bank of the Group in Latin America to have an app accessible on Android. In this way, users belonging to this social group will be able to carry out operations, such as registering, checking balances and movements, as well as making transfers to their own and third-party or interbank accounts.
In addition, they will also be able to enjoy the benefits of the interoperabilidad de las billeteras digitales interoperability of digital wallets through Plin and pay their credit cards whether they are from BBVA or other banks.
"We are very pleased to be able to offer an application that responds to the needs of our customers, boosting the financial inclusion of all people. For us, accessibility in our digital tools is part of our purpose of making the age of opportunity available to everyone, making it easier for everybody to use our products and services," said Miguel Angel Real, Head of Retail Channels at BBVA in Peru.
Digital customers
The BBVA app has become the bank's main transactional channel, with 48% of the share among channels, surpassing Internet Banking, ATMs, agents and bank branches. In addition, the percentage of transactions/sales conducted through this channel represents approximately 26% of the bank's total.
At the end of March 2023, BBVA had 3.23 million digital customers, a growth of 135,000 compared to the same period in 2022. Meanwhile, mobile customers, meaning active users of the BBVA App, totaled 3.08 million in March, an increase of 136,000 customers compared to the previous period.
The development of accessible functions in BBVA's mobile banking is in line with the Group's Sustainability Policy. As one of its main focuses of action, this policy includes inclusive growth and the search for the well-being and economic growth of all people equally, leaving no one behind.