As millions of Americans face the prospect of being quarantined -- either self-imposed or medically necessary -- all of us are looking for creative ways to accomplish our daily chores and activities.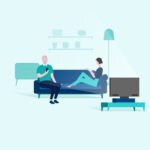 To help you minimize your time away from home, here are a few tips on how you can get things done -- including your banking -- without leaving home:
Order groceries online, but only buy what you can reasonably use. While there are no current shortages, excessive buying has made some items hard to find.
If you have to make a trip to the store, check with neighbors and family to see what they might need.
Schedule household and nonperishable items for routine delivery. Be sure to consider what you have room to store before you order.
Arrange for curbside pickup for groceries. It won't keep you entirely at home, but it does limit your exposure to just one person.
Take advantage of drive thru or curbside pickup for fast food and restaurants. Many restaurants have added this service, expanding your choices beyond traditional fast food options.
Pay bills online rather than using the post office. You can set this up on your BBVA Mobile Banking app or online banking if you haven't already.
Better yet, set up auto bill pay and go paperless.
Use Facetime or Skype in place of personal visits. Of course, it won't be as much fun, but it's definitely more entertaining than a text or email. Some apps even let you interact with more than one person at a time.
Deposit checks online using mobile banking apps.
If your banking business can't be done online, consider using the drive-thru or customer service number. If that won't work, you may be able to arrange a personal appointment with your banker.
For banking services that require you to visit a branch, be sure to check the bank's branch locator to confirm current hours.
Take advantage of televised or live-streamed church services rather than attending regular services for a while.
Choose a pharmacy that offers drive-thru pick up or one that delivers. If possible, consider getting 90-day supplies of medications you take regularly.
Take advantage of online museum tours and live social media events (such as zoo tours) to keep your kids -- and yourself -- entertained.
Download books from your public library. Most local public libraries have this service, and many -- like the New York Public Library -- are temporarily making larger collections available.
---
For more BBVA COVID-19 information, click here.