For many Americans, Memorial Day is the unofficial start of summer, replete with BBQs, time with friends and family and the first foray into the pool. But, even as we set about celebrating the freedom we have, it's incumbent on us to not forget those who gave their all in service to our country.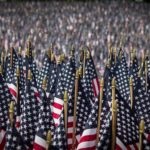 Honoring our military is important - and not just on Memorial Day or Veterans Day. Every day, as we embrace the opportunities we have because of the freedom we're afforded, we should remember those who helped ensure it.
In honor of its Everyday Heroes month, BBVA Compass MoneyFit has helpful tips on how to help members of the military and their families and ideas on gestures suitable for anybody so that these community servants know they're appreciated. To read more, click here.
BBVA Compass also offers a special suite of financial products and product discounts, designed to convey gratitude for members of the military. To learn more about the Everyday Heroes program, click here.