APPs
Updated: 09 Aug 2016
Which seven UK fintech start-ups have been selected for BBVA's first-ever London Open Talent final?
Seven UK financial technology start-ups have been named among the finalists in the 2016 BBVA Open Talent European final - the competition, now in its' eighth year, that looks to support the new businesses that are going to change financial services for the benefit of the consumer and for society.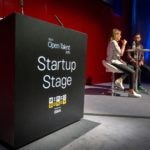 The seven businesses - Tallysticks (Using blockchain for invoice financing), Pointo (Platform for talent scouting based on incentivised referral), Algodynamix  (Analytics to predict disruptive events in financial markets), Digiseq (Payments apps delivered to wearable and Internet of Things- connected devices), Tramonex (International payments platform for business), Satago (Invoice financing platform for SMEs)  and Credit Kudos (Credit scoring models based on transaction data)- are the UK entrants among 20 European businesses chosen for the Europe final,  which for the first time is being held in London - recognition of the city's place as a financial centre and a hub for digital innovation.
Marisol Menendez, BBVA's Head of Open Innovation, said: 'What's really exciting about the British companies taking part in the BBVA Open Talent finals is that they represent the next wave of fintech with their focus on areas such as SME financing and the Internet of Things .'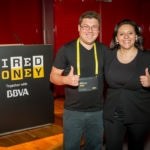 Dario Mutabdzija from Paykey, Winners of the BBVA Open Talent WIRED Money Special Award, with BBVA's Head of Open Innovation Marisol Menendez (Photo: Jamie Smith)
Two winners will be selected from the European final (along with two each from finals in the US and Latin America). Winners will receive €30 000 to develop their project with BBVA and will be invited to take part in an Immersion and Interaction Programme with BBVA experts in Mexico and Madrid. In total, there are 56 global finalists selected from over 1200 entrants from 77 countries. The full list of finalists can be found here
Special category winners  have already been chosen and will take part in the immersion weeks: Musoni, who provide a platform to help financial services businesses better offer microfinance to the underbanked, have won the Open Talent Financial Award, which promotes financial inclusion. Paykey, which allows customers to make payments through social media platforms, is the winner of the WIRED Money Special Award.
Finals will be held in New York (US and the Rest of the World, September 6-7), London (Europe, September 13-14) and Mexico City (Latin America, September 19 -20). The London finals are part of an event hosted by Next Money on September 14 at the Boilerhouse at the Old Truman Brewery . Speakers include Derek White, Head of BBVA's Customer Solutions, which is responsible for bringing new products and services to BBVA's retail customers, David Brear, Founder and CEO of 11FS and Megan Caywood, Head of Marketplace Platform at Starling Bank.