Workforce Development Center part of The Salvation Army's new Center of Hope
In October, BBVA Compass joined officials from The Salvation Army at a dedication and ribbon cutting ceremony for the non-profit's new Center of Hope in Birmingham, Alabama.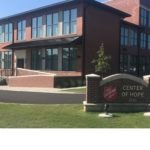 The 110,000 square foot facility offers solutions to challenges faced by many individuals and families in the Birmingham area through the programs and services it houses, among them the new Workforce Development Center, a program made possible in part by a $250,000 gift from the BBVA Compass Foundation.
BBVA Compass East Region Executive and Salvation Army Advisory Board Member Lee Smith explained why it was important for BBVA Compass to play a leading role in the development of the Workforce Development Center:
BBVA Compass is taking a leading role in this...
"We couldn't be prouder to be a part of this service that will be so vitally important to Birmingham becoming a city of the future," he said. "Part of the role of the Workforce Development Center is to partner with other nonprofits in the community to provide training and education to build a pipeline of qualified employees. BBVA Compass is taking a leading role in this by committing to help Birmingham move from financial literacy to financial capability and security, through the provision of financial literacy curriculum and the iPads that the Center can use for financial literacy courses. The bank also intends to help teach the courses."
Further, Lee said, BBVA Compass is also using the center for monthly small business workshops led by its own bankers. The courses began in July and will be held on a monthly basis.
In a release distributed to media the day the Center was dedicated Area Commander of The Salvation Army of Greater Birmingham Major Roger Glick said, "The new Center of Hope is more than just a building. It is a place that will restore dignity to the services we provide and will offer hope to individuals and families going through difficult times. It is exciting and humbling to see this finished project, made possible through community support, become a reality for the people we serve. This facility will bless thousands of people in the years to come."
The Center of Hope is a 4.1 acre campus with four interconnected buildings. In addition to the Education and Workforce Development Center, the Center also houses a Marketplace Food Pantry, Transitional Apartments and Pathway of Hope, a program that seeks to solve intergenerational poverty. The building of the Center was primarily funded by the $15.6 million Building Hope Capital Campaign.