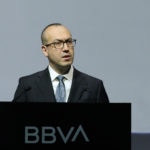 There are no major updates vs. what we said at the March AGM and what we have consistently been stating since the beginning, as can be seen on our microsite.
From the beginning, the priority, set by the Board of Directors, has been to fully cooperate with the judicial authorities in clarifying the facts.
In order to contribute to clarifying the facts, PwC was hired through our external legal counsels to carry out a forensic analysis, which is a voluntary, objective, profound and thorough investigation, that follows the standard methodology used in these types of investigations.
The cooperation with the judicial authorities has translated, among other things, in the fact that BBVA has shared with the Court all the relevant documents obtained from the investigation.
Additionally, we have repeatedly offered and made available to the judge all the data gathered in case any further investigation is to be carried out.
It is important to recall that the investigation that prevails over any other initiative and the one that must clarify what happened, is the one being carried out by the Spanish High Court. The judicial process is still at a very early stage, the pre-trial proceedings. We have to wait. Justice has its own deadlines and it's important to let the courts do their work, and not make parallel judgments.
We have pleaded that BBVA bears no responsibility for the facts under investigation.
And lastly, I would like to underscore that as of today, BBVA has not identified any relevant or direct impact on its business, investors or stock performance due to this situation. Additionally, the bank's reputation remained stable in 2019 compared to the previous year and 2020 data show an improvement.