Did you know that the oxygen level at 8,000 meters of altitude is one third the amount of oxygen available at sea level? When the goal is to reach 8,000 meters it is important to be aware that only Mother Nature exists up there. However, the body can go through acclimatization, which is an adaptation process to survive in the conditions of the new environment.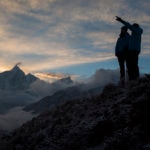 At altitudes over 3,000 meters, people are exposed to hypoxia, a condition in which the body is exposed to air with low levels of oxygen. To counteract this deficit, the heart and breathing rates get faster. This alone is sufficient to increase the amount of oxygen in the body for a short period of time. For longer amounts of time, this adaptation is not sufficient and the increased work rates start posing significant risks.
Acclimatization is a biological process to create more red blood cells and increase the flow of oxygen in the blood.  This makes it possible to normalize the heart rate and regulate hyperventilation to a certain extent.  If a person spends several weeks above 4,500 meters, the percentage of red blood cells in the blood can more than double.
A progressive ascent, key for proper acclimatization
There is no set amount of time for acclimatization. Everyone is different although the average is usually around 10 days. The most important thing is to do it gradually. Below are some tips that can be useful to ensure a proper acclimatization:
- It is better to walk, as using a vehicle could expose the body to the ascent too quickly, without moving muscles.
- Air pressure causes dehydration. Therefore, it is important to be well hydrated to improve circulation.
- To find out if the body is acclimatizing properly, check your pulse every morning and see if the heart rate improves. No headaches, a good appetite and sleeping well are all signs that it is going well.
- Above 3,500 meters, it is not recommended to climb more than 500 meters to spend the night. For every 1,200 meters of altitude ascended, it is important to rest for one night. Here is an example to understand this better:
1st night at 3,500m, 2nd night at 4,000m and 3rd night at 4,300 meters. It is possible to climb to 4,500m during the day but go back to 4,000m to sleep. Remember, "climb high and sleep low".
Ascent during acclimatization should be determined based on the goal of the expedition. If the idea is to climb an eight-thousander, it is essential to make sure that the body has adapted to a minimum altitude of 4,000 – 5,000 meters, which is where base camps tend to be placed.
Poor acclimatization could cause altitude sickness
Carlos Martínez, the doctor who accompanies Carlos Soria and the whole team on their expeditions, notes that acclimatization is considered complete "when all the physiological processes of our body have normalized." He points out that from a medical perspective it is "when the hematological adaptation takes place with a higher hematocrit and hemoglobin count, metabolic adaptation and pulmonary adaptation with improved respiratory capacity."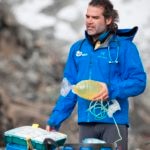 Carlos Soria is the doctor of the BBVA Expedition
Once acclimatization has been completed, a person who lives at sea level can do physical activity in high mountains. Carlos Martínez also assures that almost everyone can acclimatize properly, "only a small percentage of people are predisposed to not acclimatizing and get altitude sickness."
If acclimatization is not done correctly and gradually, some of the altitude sickness symptoms may start appearing. The most common symptom, which appears in the virtual majority of cases, is headache. Insomnia also frequently occurs, while some people lose their appetite and feel nauseated. Altitude sickness can be mild, moderate or severe. If it is not severe, the ascent can continue, but at a slower pace. If the situation gets worse, it is essential to have a hyperbaric chamber – a type of sleeping bag that simulates lower altitude conditions in order to treat the altitude sickness.
BBVA Expedition's acclimatization
Before facing the double challenge of treading on the Annapurna and Dhaulagiri, BBVA Expedition, led by Carlos Soria, underwent the acclimatization process in the Khumbu Valley for 12 days at a maximum attitude of 5,900 meters.  This routine – a must before climbing 8,000 meters – no longer has any secrets for the veteran climber and the rest of the team.  Although the body is unpredictable, they know what steps they must follow perfectly.  The doctor accompanying them on the exhibition, Carlos Martínez indicates that:  "There is such a thing as acclimatization memory. The more we expose ourselves, the faster and better we adapt."
This is how the 2016 BBVA Expedition's acclimatization went: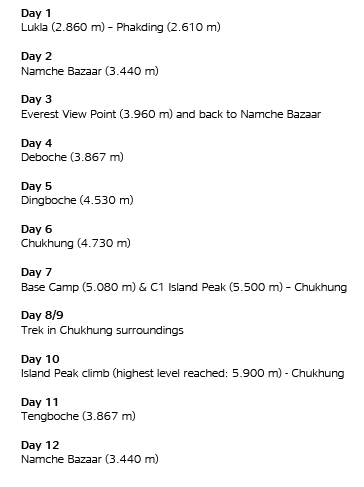 After completing the acclimatization, the expedition headed for the Annapurna Base Camp at 5,200 meters. Carlos Martínez notes that acclimatization lasts "while we are subjected to hipoxia en the base camp." He warns, however, that "we could desacclimatize if the Base Camp is too high because it is not possible to have permanent acclimatization above approximately 5,500 m."  There are no human settlements above this altitude.  After descending to a normal altitude, acclimatization takes about three weeks, "this corresponds to the period of time in which the hematite (red blood cell) is mature enough and the muscular adjustments remain active."
."