Peer-to-peer (P2P) lending platforms, also referred to as alternative lending, came into being a decade ago in order to make traditional financial industry services more available to the ordinary citizen.
Since then, the sector has entered a phase of permanent transformation, and the initial idea to "steal" lending business from banks has given way to another concept: partnerships. The sector has now partnered with banks to reach persons with few possibilities to obtain loans due to lack of a credit history or other limitations.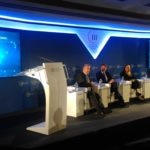 At the IIF Spring Meeting, which was recently held in Madrid, experts and entrepreneurs from various countries analyzed the future of this sector, which is experiencing unlimited growth despite certain uncertainties. The business figures speak for themselves: In 2015, in the United States, USD 50,000 million was transacted on P2P lending platforms. This is half the amount transacted during the same period in China, where there are already more than 2,000 such platforms.
How do banks fit into this structure? Benoît Legrand, ING's Head of Fintech, agrees that the partnership between fintech start-ups and financial institutions is crucial, and has identified three factors to be considered in this new business model:
Banks must undertake a "transformation from within",
Time, since "everything's coming in at high speed",
The constant battle to attract the best outside talent
Kathryn Petralia, cofounder and head of operations at Kabbage, thinks that the new P2P sector has two key advantages over the traditional one. On the one hand, the products are presented differently and are more useful for the customer, and, on the other hand, lending products are being offered to people and businesses that, in terms of type and amount, were not offered by traditional lenders.
Nevertheless, some are questioning the extent to which P2P platforms are still parallel or alternative, given that many of them are now partnering with traditional banks. Petralia is very clear: A financial institution offers "tremendous advantages", which is why Kabbage has partnered with them to serve end customers: "Banks have the lowest cost of capital, access to customers, access to the flow of funds, and, in particular, access to a whole world of data which puts them in a position to serve customers much better".
Similarly, Francisco Sierra, Director General of Funding Circle Spain, says that financial institutions partner with alternative lending platforms because "they approach the market in a better and faster way, with technology". However, Petralia of Kabbage reminds us that "banks have been fintech companies for many years: they constantly use licences and create technology to deliver products".
Funding Circle's business model is based on transparency, "a focus on one product, fast access to capital for borrowers, and good returns for investors".
For more information on P2P lending, we offer an ebook with the key principles of the sector and its ecosystem.