Antonio Béjar: " The city of Madrid and their citizens have the most to gain from the project"
Those visiting his office for the first time will find it hard to believe that the site for the Distrito Castellana Norte project can actually be seen from Antonio Béjar's desk on a top floor of Plaza Castilla.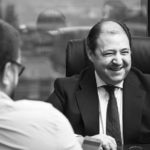 With a last name from Salamanca, Antonio Béjar grew up near the Giralda bell tower in Seville. It has been 25 years since he has lived in his hometown. After studying law nearby, he began working for BBVA, which brought him to nine different autonomous communities, although Madrid has been at the heart of this family life. From Seville and a fan of the Seville soccer team, he is married with three children. Born at the end of the 1970s, he is familiar enough with Madrid to admire how welcoming the capital city is. It's a place that "makes you see the convictions and customs you bring from your hometown in a new light."
Béjar has spent the last two years directing the Distrito Castellana Norte. Both BBVA and the construction firm San José have stakes in the company that wants to lead the fifth extension in the history of the Castellana. Béjar has been a board member since 2012, so he was already very familiar with the project. He considers this responsibility a privilege, but also has a major challenge before him: activating a project that has been at a standstill for 20 years. "Your professional career is a series of challenges. It is also a privilege to be given a challenge. So, here we are."
Q: This project dates back to the Argentaria period, before the existence of BBVA as it stands. Can you summarize this long process?
A: It all began with a government tender. Railway companies decided that the best way to make use of this land was to sell it in order to modernize the Chamartin station and Madrid's railway infrastructure. In addition to the consortium including Argentaria and the San José construction company, interestingly, another consortium including BBV and Metrovacesa also bid on the tender.
Argentaria and San José's bid won, and everything that happened in the 20 years since then has been the result of political changes, which, since 2007, were also affected by the huge real estate crisis that made it impossible to start developing.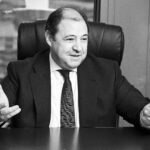 Antonio Bejar summarizes the history of the project. Photo: Luis Camacho
Q: A new approach has been underway for the past two years. Of the work completed so far, what would you underscore?
A: Over these past two years, the government received a new plan that addresses all the legal, administrative and economic problems in previous versions. In a sense, it represents a new start. It is also a completely different market context, the start of a positive cycle.
The favorable environment makes it possible to prepare a business plan and development with a much higher likelihood of success than during the crisis. Because during the crisis it wasn't completely clear how many extra homes there were, if they could be sold, how many offices were needed, etc.
Today that is much clearer. And the crisis is over, the real estate crisis in Spain, and definitely in Madrid, is over. There are no unsold products, no empty offices and therefore, there is much more certainty.
The most important aspect has been the possibility of rewriting history during these past two years in a context this operation has never had before in terms of the market and its potential.
Q: There is talk of approximately 17,000 new homes – a figure some use to criticize the plan. Is it a robust argument against the project?
A: I would invite everyone to carefully read the reports of the main real estate agents and those producing real estate market data. There are currently around 5,000 homes for sale in the Community of Madrid. There is no stock, or extra homes waiting to be absorbed, and home construction is below demand.
If Madrid does not build new homes, it runs the risk of the growing population moving to other parts of metropolitan Madrid. That's what happened in the 1980s when there was another period against development, a period when it was believed that Madrid shouldn't grow more, just remodel existing homes. The fact is that Madrid continues to grow and people keep coming to Madrid. It's undeniable.
To twitter
Growth needs to take place in an orderly, sustainable, well organized manner, but we cannot refuse to grow.
Q: Over the past two years, you have worked with multiple experts in different fields. What have they told you about the final plan?
A: The experts are very clear and conclusive. They give us a lot of confidence when predicting whether Madrid's market will absorb the homes we will build. We have no doubts about that. This confidence has allowed us to access the needed resources for this operation.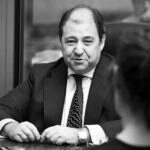 Antonio Béjar, chairman of Distrito Castellana Norte. Photo: Luis Camacho
Q: The  project was designed long time ago,  and the image of developers has drastically changed since then. What does the project provide to the north of Madrid?
A: A model of a modern, sustainable and unique city that does not exist in the rest of Madrid. It is a great opportunity to be able to plan and build this model using the 2016 planning criteria. We have all learned from the crisis, the real estate bubble, and we know what not to do. It's important not to create isolated cities, commuter towns and large shopping malls that impact small businesses – nothing isolated.
As the experts say, it is better to build 24x7, vibrant cities. As we are still here today, that is the type of city that we can plan.
Q: Neighbors are a key component in this entire planning process and those that have been most affected by this project being at a standstill for so long. What are their feelings after all the meetings you've had with them?
A: The neighbors have conflicting feelings. On the one hand, they are understandably skeptical because they have been hearing that their neighborhoods and their environment will be developed and improved for years, and it still hasn't happened. But they are also optimistic. Everyone prefers to live in a new environment with top-notch facilities, equipment and services instead of an abandoned area that is poorly connected, with illegal settlements and crumbling factories.
The neighbors are enthusiastic. Skeptical because of the history, but enthusiastic about the future.
Q: We are referring to a very diverse group of neighbors because the area covered by the project is fairly heterogeneous. They are not similar in economic or urban terms, so the project will have to address a wide range of sensitivities. 
A: Yes. Even though people tend to think generically that the north is rich and the south is poor, walking around the area you quickly see that is not the case. Distrito Castellana Norte wants to become part of the environment harmoniously. Spaces and buildings are needed that allow everyone who lives in the north space to live and share, regardless of their background.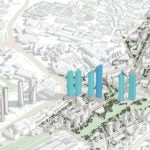 City model posed by Distrito Castellana Norte: Photo: Distrito Castellana Norte
Q: Are they concerned by the fact that it is a long term development project?
A: The neighbors would like to have everything completed already, and so would we. But a project that has such an impact on a city first has understandably high administrative and legal requirements. Second, no one likes to have construction at their door step.  The people who live in the Madrid Rio area endured years of construction, but are now very happy with the result. That part of Madrid has radically changed.
Q: There are those who speak out against this and other urban planning or investment projects. Why do they generate such criticism?
A: It's a consequence of the crisis. The crisis had a major real estate component and a significant part of society blames excesses in the real estate market for the crisis. This part of society needs to realize that given one extreme – excessive construction – and the current situation where there is practically no construction in Madrid, we need to get back to normality. Construction and the real estate sector are very relevant employment sectors for Spain. We must avoid repeating the mistakes of the past, but economic activity should also not be demonized. We must get past the ideological prejudices that were created from the crisis, which are understandable in certain areas. We must be cautious and act rationally, but condemning and ostracizing the real estate industry is a mistake.
Q: From an investors' perspective, what opportunities does this project offer? 
A: Madrid is the top real estate market in Spain – not just because of its size, but because Madrid's socioeconomic momentum sets the city apart from the rest of Spain. It is becoming more and more like a large European city. Without a doubt, DCN is helping Madrid stand out from other Spanish cities.
Distrito Castellana Norte provides and invests more than €940 million in five large extraordinary infrastructure projects for Madrileños to use and enjoy - projects that would otherwise not be carried out due to budget restrictions. This is great news for Madrid and a perfect example of a public-private partnership. A private company provides infrastructure for citizens, while also creating a business opportunity.
From an investor standpoint, the approval of Distrito Castellana Norte would attract international investment, as proof that the city of Madrid promotes investment and development.
Q: What else can be done, or what do you have left to do before the deadline?
A: From an administrative and material point of view it is hard to make progress because there are stages. The project moves from one stage to the next following different government approvals. We do not yet have those approvals, which makes it hard to move on to the materialization phase, and subsequent stages in the project. However, we are working on the following phases even though we cannot yet present them formally.
Q: Do you think that making progress in the model of the city helps people to understand what it is, or what the project will look like?
A: Yes, definitely. The administrative process is complex and technically dry, which makes is hard for people to understand what they will find there when everything is finished. That's why we are starting to explain what the buildings will look like, and above all, their size. We are doing this to clear up any questions because some people thought they were going to be eccentric constructions and that's not true. All the buildings will blend in with the surroundings. They will essentially be similar to the buildings on the Paseo de la Castellana. Making progress in what we are going to do is very good and it is an effort we will continue making so that we can address the questions or hesitations people may have.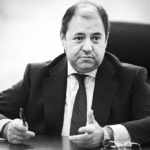 Antonio Bejar explains the city model proposed by the project. Photo: Luis Camacho
Q: Is it at all similar to the Canalejas project or any other project currently underway in Madrid?
A: No, not at all. It is hard to grasp what is going on with these operations that are in the news every day, but it is not at all related. The Canalejas project includes seven buildings, but they do not have a relevant impact on the city as a whole, just like the Plaza de España building. Distrito Castellana Norte encompasses three million square meters. In this case, the scale and size of the project matter. Even if they are compared Distrito Castellana Norte is completely different.
Q: What social aspect of the project stands out, or what part of the plans are you most proud of? 
To twitter
Distrito Castellana Norte will be a project that benefits everyone living in the area.
A: Compared to what is there today, it is a radical change. It will improve connectivity and transportation to the rest of Madrid. Just try going from Las Tablas neighborhood to the sidewalk across the street. You'll see how long it takes you.
If you analyze the extensions of the Castellana, they have always started with the Castellana and then urbanized the land on the left and right. This is the first time the land on the left and right have been urbanized before the Castellana. And that's the problem. In the 1980s, during the period against growth and development, it was decided that the city wouldn't grow beyond the M-30 and now this project is the only possible solution.
Distrito Castellana Norte creates solutions for mobility, connectivity, facilities, libraries, schools, community centers, urban open spaces, etc. In other words, when you leave your house, it changes your life. Instead of having a vacant lot in front of you, you have a plaza with stores and bars, without having to move.
Q: So that people can get an idea beyond the drawings and models, in terms of importance, what recent development project can the Distrito Castellana Norte be compared?
A: We would have to go back to the early 20th Century, to the previous extensions of the Castellana. Historic Madrid is surrounded by the Casa de Campo and Royal Palace on one side, and the Retiro on the other side. The gardens were in the South, that's why Madrid was developed toward the North. The last expansion of Madrid was Nuevos Ministerios to Plaza Castilla in the 1950s. I think that was the last relevant expansion.
Q: Like a student with a final exam, do you have the feeling of working against the clock?
A: We have to follow certain deadlines but work with the peace of mind that comes from knowing it is a good plan. Our proposals are properly equipped. Above all, it is the city of Madrid and the Madrileños who have the most to gain from the project. We don't want the Madrileños to miss this opportunity, so we are clearly working as quickly as possible.
1

Distrito Castellana Norte_ Current status of the area

2

Distrito Castellana Norte_ Current status of the area

3

Distrito Castellana Norte_ Current status of the area

4

Distrito Castellana Norte_ Current status of the area

5

Distrito Castellana Norte_ Current status of the area

6

Distrito Castellana Norte_ Current status of the area

7

Distrito Castellana Norte_ Current status of the area

8

Distrito Castellana Norte_ Current status of the area

9

Distrito Castellana Norte_ Current status of the area

10

Distrito Castellana Norte_ Current status of the area