Banking Leader of the Year Bronze Award given to BBVA USA's Diego Blanco for his work in Banker Solutions
Three years ago, BBVA USA unveiled a new front-end sales and service application that would be a key tool for the frontline branch employees across the bank's footprint. That tool was Client Vista.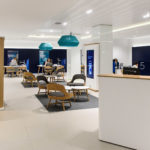 Client Vista connects the bank's real-time core banking platform to its sales and service team, giving them better flexibility to assist the client and discuss products and services that are relevant to their personal needs.
Since then, BBVA USA Banker Solutions Director, Diego Blanco, has led the complex and successful effort to enhance the tool's streamlining capabilities to incorporate a homogenous user experience for optimal branch & digital operations. His efforts, and those of his team, were recently recognized in GDS's Leadership Excellence Awards, where he was given the Banking Leader of the Year Bronze Award.
Everyone in our group should be very proud of these accomplishments.
"This award means everything for the team, and it was won because of the team," said Blanco. "We have been able to transform the way that we create value, transform our ideas into tangible products in the hands of our customers, and increase our capacity and efficiency to do so on a recurrent basis. I sincerely believe that our team's experience and success story is a gateway to acknowledge how talented teams help transform the way things can be done. Everyone in our group should be very proud of these accomplishments, which resulted from the challenges that we overcame to be better."
Blanco accepted the award in late November in a digital ceremony hosted by GDS Group, a global events, research, and technology services company. The award, according to Blanco, capped what was already slated to be a challenging year even before the pandemic occurred.
"The primary challenges in accomplishing our objectives included responding to COVID-19 to ensure clients continued receiving, as much as possible, the same level of in-person service as they did in branches before they had to close," he said. "This challenge was further compounded by the existing myriad of systems that bankers needed to navigate. To achieve this, we needed to reduce the systemic siloes in order to make the way of working more efficient and seamless by unifying tools. A unified tool offers a unique application to serve the bankers and evolve how they interact with clients in a post-COVID world."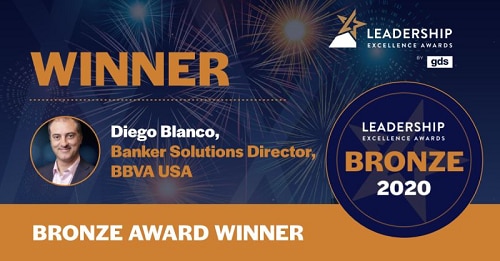 According to Blanco, integrating other services into Client Vista - such as product originating capabilities like Express Personal Loans - has cut down on time in regards to the customer's visit. Days of paperwork have been condensed into minutes of digital interaction, improving processes such as underwriting, which can now be fully digital.
"We've been able to continuously transform a plethora of technologies," said Blanco. "We've been transforming and aligning a homogenous user experience design and are implementing this design in our branch network. Our bankers can use the same proven, recognized, and awarded concepts and technology from our Global teams in their daily applications."
According to the GDS Leadership Excellence Awards website, the honors recognize excellence in senior leadership within large enterprises, breaking down geographic boundaries to recognize the best in the world. For Blanco, when reflecting on the past year and his team's achievements, the honor acts as a validation of sorts.
It is satisfying that someone took the time to...acknowledge our work.
"Personally, it is satisfying that someone took the time to think of me to acknowledge our work," he said. "There are so many people doing amazing things in today's context, and having someone acknowledge this work is an achievement in itself. Professionally, this award is another reason to keep going and reaffirms that the direction, the decisions, and the team navigating the changes have been on the right path."
While Blanco was the award recipient, he also mentioned the Product Owners on his team and their crucial contributions to a successful 2020:
Claire Raby, "has been able to transform the way that credit card solutions were being implemented, while also increasing tenfold the quality of our origination capabilities."
Amy Bischoff, "has worked to enrich the cross-sell experience for all of our deposit products so that, in only a short period, we implemented four new added-value services that are available in the origination flows."
Hunter White, "has driven a very challenging project to bring Express Personal Loans to the BBVA branch network."
Sara Henry, "brought 14 small, medium, and enterprise non-consumer products to our bankers in three quarters."
Philip Powers, "migrated 25% of our legacy servicing capabilities in only nine months - which is as much as we had migrated in the prior two years."
Lisa Salas, "has been able to both improve and keep our bank teller software updated and compliant without any issue over the last year."
Eze Rojas, "has evolved our Salesforce application to turn it into a key platform for all our bankers by leveraging team capacities across the business needs and enriching the sales protocols to better serve our lines of business."
"Behind each of them," Blanco noted, "there is a story of adaptation, perseverance, change, learning, improvement, and delivery."