For BBVA Compass, every step of the customer journey is important, from account opening to basic account maintenance, which is why the bank's new front-end sales and service application is a key tool for its branch team.
Dubbed Client Vista, the tool connects the bank's real-time core banking platform to its sales and service team giving them better flexibility to assist the client and discuss products and services that are relevant to their personal needs. For the customer, the impact of the change is minimal, according to BBVA Compass Consumer Director of Business Planning and Client Vista Program Owner Shawn O'Brien, but the application was designed specifically to meet their needs.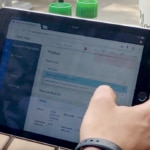 "While Client Vista is an application that our bankers - and not customers - use, we built Client Vista from the ground up with our customers in mind," he said. "Client Vista speeds up many processes for our bankers, thus making it faster and more convenient for our customers to come into our branches and get their tasks accomplished."
O'Brien: We built Client Vista from the ground up with our customers in mind.
As one example, O'Brien said, Client Vista has reduced the overall time that it takes to open an account from 30 minutes to just 10. He went on to say that these kind of efficiencies are nice for the customer, and also allow the banker to have more time to build relationships with their clients. "Client Vista helps our bankers be more confident and more informed," he said.
Similar to the bank's award-winning mobile and online banking platforms, Client Vista was built internally rather than purchasing a third-party solution. Doing so allowed the development team to build a flexible tool that supports the organization's needs and integrates with other tools, like Salesforce, while also delivering a better client experience.
"Product owners, design teams, sales and service support teams and technical partners work together within an agile framework to design and develop Client Vista," said BBVA Compass Lead Segment Consultant for Retail Digital Banking Rich Trent. "Our goal in those initial sessions was to focus on how customers presently do business with us so we could identify the pain points and alleviate them with this tool."
McMahon: When we've helped our customers manage their financial journeys in the way they want, we've made  their lives better.
A web-based application, Client Vista will eventually make its way out of the branch on tablets and laptops as a way bankers can take the bank to clients, providing them the same experience they would get  in-branch.
"BBVA and BBVA Compass focus on technology and digital transformation because it makes doing business with us faster, easier and better," said BBVA Compass Head of Business Software Engineering Kevin McMahon. "When we've helped our customers manage their financial journeys in the way they want, we've made  their lives better."