BBVA: 5 key takeaways from the bank's January-September results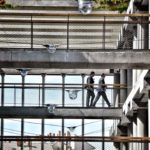 BBVA earned €4.32 billion from January to September 2018 - 25.3 percent more than the same period in 2017. In addition to the bank's attributable profit, below are the five key takeaways from BBVA's results for the nine first months of the year:
Nearly half of BBVA's customers are digital. The institution is expediting its transformation process and currently has 26 million digital customers – up 23 percent from last year. These customers now make up 49 percent of the total. Furthermore, 21.7 million customers choose to do their banking by smartphone, a 37 percent increase.
Growth in the base of digital and mobile customers is improving efficiency. Why? These customers increase sales on digital channels at a lower cost. The number of units sold on digital channels in the first nine months of the year accounted for nearly 40 percent of the total – compared to just 15.3% two years ago. As a result, the efficiency ratio improved to 49.6 percent.
Growth in recurring revenues (net interest income plus fees and commissions), excluding the exchange rate effect. Net interest income for the first nine months of the year stood at €12.9 billion (up 10.2 percent at constant exchange rates), while income from commissions and fees reached €3.65 billion (up 9.4 percent). The sum of both line items – recurring revenues – reached €16.55 billion (up 10.1 percent), pushing gross income to €17.6 billion (up 4.3 percent). This, together with the containment of operating costs explain this improvement in the operating income.
BBVA's risk indicators are solid. For example, the bank's NPL ratio in September 2018 dropped to 4.1 percent from 4.4 percent in June.
Capital strength remains above the target. The fully-loaded CET 1 ratio, the benchmark ratio to measure an institution's solvency – increased to 11.34 percent. In the third quarter of 2018, the sale of BBVA's stake in BBVA Chile added 50 basis points to this ratio.