NOTHING'S IMPOSSIBLE
Nothing can stop Nori Gallegos [BBVA Bancomer, Mexico]. She knows that with patience and lot of teamwork, no distance is too far and no challenge too difficult. "Nothing is impossible. You have to dream big and work every day to make them come true," she says.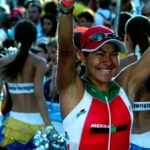 Everyone at Nori Gallegos' home is on the move. Not because they're in a hurry, but because triathlons are almost a way of life for them. This living situation entails competition; not among each other, but everyone against themselves. They are members of a team who work to beat their individual records. Marco Alejandro, her husband, who worked at the bank but has retired, is her companion in life and sports. "We started to do triathlons at different times, but for both of us our first was the 2006 Ironman in Austria. Since then we have trained together and participated in the same competitions. I think it motivates us to keep competing."
The youngest members of the household are also on the "team." Sandra Adriana, 21, and Omar Alejandro, 23, have already shown their enthusiasm for triathlons. "One of the toughest aspects of this sport is finding a balance with the rest of your life. This takes a lot of time and dedication. That's why it's great that we all understand the effort each one of us making. It makes living together easier."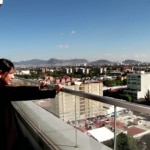 But the value of teamwork isn't the only thing that preparing for the Ironman has taught Nori.
This sport requires a lot of discipline because you have to cover a lot of ground. I think that has made me much more organized at work. You have to set aside certain amount of time for each task. This sport has had a big influence on how I approach my job at BBVA
She says that it has also helped her keep a cool head at times when she was under a lot of pressure.
This opinion was shared by another BBVA Ambassador who participates in the Ironman: Miguel Largo.
PAEAN TO RESILIENCE
Resilience: An ability to recover from or adjust easily to misfortune or change [Merriam-Webster dictionary].
As you would expect, Nori has had to deal with some tough situations in the two decades she has been practicing sports. "I've had some very intense experiences, from preparing for an event, qualifying for it and not being able to finish it. That happened to me in 2007 at the Ironman in Wisconsin. I was very well prepared but I had problems with my bike. You have to consider these situations learning experiences. They may be painful, but you have to accept them and push forward. I always say that we are not prepared to not finish things or to not be successful after working so hard. Some situations we can't control, but we have to keep a cool head and think, "today I couldn't do it, but I will tomorrow." We have to learn from these experiences.
Nori thinks the physical aspect is only one part of training and success. "Mental toughness allows you to overcome most difficult moments and is also something you can train." And she showed that mental toughness at her last Ironman in Barcelona.
CHERRY ON TOP
The proof that Nori and her family live and breathe sports is that after Marco Alejandro retired, he decided to buy a business. It's actually a space where he can enjoy his passion even more. "It's a bicycle store that sells running and swimming gear and accessories. What we did different was to add a coffee bar which, at least in Mexico, is a very innovative concept. It's the cherry on top," he says laughing.
PROFILE
Name:      Nori Gallegos
Position:   Advisor on Operations and Risk IT team [BBVA Bancomer – Mexico]
Function: Take on and manage rewarding challenges
Hobby:     Ironman
Dream:     Influence people
QUOTES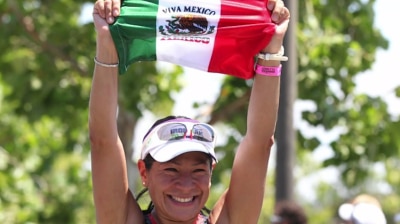 "Nothing is impossible. You have to dream big and work every day to make them come true"
"We have to keep a cool head and think, "today I couldn't do it, but I will tomorrow"