BBVA Compass has put its innovative design thinking methodology to work, solving a real-world problem outside its own four walls. Using a common refrain among those who provide response and relief to disasters: all disasters are local. But the increase in the incidence of natural disasters worldwide since the 1970s has made it increasingly difficult for local communities to handle disaster response on their own.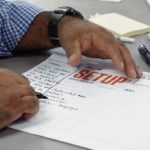 Yet, as communities become more and more reliant on nonprofits, local and federal government organizations for planning support and aid, those same organizations are being taxed beyond their capacity, according to a Pew Charitable Trust's 2018 report.
That gap -- between community need and government ability to respond quickly -- is where BBVA found an opportunity to help. In partnership with the Field Innovation Team (FIT), BBVA piloted its ShelterSmart program in three of the bank's U.S. markets recently impacted by natural disasters: Miami Beach, Fla., experienced Hurricane Irma; Fort Payne, Ala., was hit by a string of devastating tornadoes; and Rockport, Texas, was one of the hardest-hit coastal communities impacted by Hurricane Harvey.
All three communities played host to the BBVA and FIT teams -- joined by local community leaders representing government, nonprofit, school and religious organizations -- who presented the ShelterSmart guide as a template to prepare their own customized disaster response plan. Each two-day session also featured a crash course in Design Thinking, a problem-solving approach used at BBVA in its own user-centered, agile design focus.
"Design thinking is a human-centered approach to problem solving approach. We begin by deeply understanding our target audience and defining the specific problem to be solved -- whether that's sleeping arrangements or supply distribution. From there, we ideate solutions, prototype the best ones, test and keep iterating," said Mary Wharmby, Head of Design Transformation at BBVA. "We can execute these steps sequentially or simultaneously to arrive at innovative solutions quickly, always with our customers' experience in mind."
Wharmby, who is from a part of California frequently impacted by wildfires, recognized that this type of problem-solving could be applied to disaster preparedness and help enable communities to be more resilient in their planning and response to disasters. This innovative approach fit perfectly with FIT's mission to empower humans to create cutting-edge disaster solutions.
Following two days of research, piloting and training in each market, the BBVA and FIT representatives are working to incorporate recommended changes and enhancements from the local participants, the "evaluate and reiterate" part of the design thinking process. Their next step will be a U.S.-wide launch of the ShelterSmart and accompanying localization workshop, slated for late November 2018.