Agile working creates opportunities for BBVA Compass in U.S. market
BBVA Compass further adopts a new internal workstyle aimed at providing the bank with the organizational structure and necessary competitive capabilities to collectively focus and quickly respond to the digital transformation within the U.S. banking arena.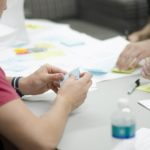 On an organizational level, BBVA USA is following in the footsteps of its tech teams and adopting agile working as a way to boost collaboration, maximize productivity, increase efficiencies and reduce complexities. The bank has seen firsthand the internal and external value of incorporating the model into the organization. In working agilely, the bank aims to leverage its most valuable resource — its people — to work and perform in a way that considers and meet the rising digital demands within the U.S. banking sector in a streamlined manner.
Agile methods, or lean development processes, have already become well acquainted with the U.S. tech space in Silicon Valley, but have also taken a presence in BBVA Compass' footprint where engineering and technology design teams have adopted the working model, with nearly 60% of their developments currently being done in an agile format.
Agile working has proven to be an effective model for BBVA Compass' development teams — successful enough for the bank to invest in a fintech-inspired think tank in Birmingham. The bank's $13.5 million Development Center places its business technology teams side-by-side in real estate that fosters agile working, enabling the bank to be a front-runner in the innovation and development of digital solutions capable of transforming the banking arena.
However, the bank, as a whole, also sees a competitive advantage in taking up the worktype. BBVA Compass' Talent and Culture operations are currently piloting the effectiveness and efficiency of agile working, and within three months, they will complete three projects which will become prototypes for the organization's transformation.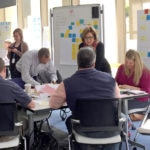 Employees pilot the effectiveness and efficiency of agile working within three months. - BBVA Compass
The agile framework will be an organizational shift that builds on the competencies of employees and considers end-user needs"
Adriana Quevedo-Price, BBVA Compass executive director of Agile Project-based Organization, stated that the agile framework will be an organizational shift that builds on the competencies of employees and considers end-user needs to rapidly propel valuable banking solutions to the market.
"A major project at the bank can take an average of two years to complete when done under a waterfall or fixed work model, but working in an agile or adaptive manner can reduce that timeframe down to six months or less," said Quevedo-Price. "Built on scalability and not restraints, agile working will allow the bank to quickly bring projects to fruition, because it welcomes end-user feedback while pulling out a series of qualities from employees: accountability, teamwork, organization, flexibility and creativity."
Agile working, often coined as the "new way of working", gained notice for its use in software development and is an iterative approach that breaks down projects into pieces that are tackled in short work cycles. The workstyle is prized for its ability to adapt rapidly to changes, due to its highly collaborative approach where feedback during each cycle is used to improve subsequent ones.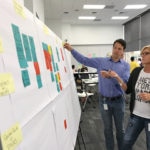 BBVA Compass employees prioritize end-user needs through agile working. - BBVA Compass
Traditional "make and sell" work models invest heavily in up-front fixed planning for major projects, then leave teams, divided by function, to execute them over a long period of time with little flexibility and end-user feedback throughout the process. This maximizes cost and risk because market insight and verification is not brought to the surface until after a project's anticipated completion.
In contrast, BBVA Compass is investing its resources in agile methods, which leverages cross-functional and cross-generational teams, known as scrums, to work in sprints, enabling projects to be significantly informed, organized, tested and evaluated every two-weeks. After three to six months, a demo solution is pushed to the market. And, although the demo is not a final solution, its release provides a competitive advantage by delivering the best possible solution to market in a short time period and opening the floor to market feedback. As seen in its tech endeavors, this way of working will help BBVA Compass stay abreast of its clients' needs and push more banking solutions to the U.S. market while being able to adjust and manage uncertainties on a smaller scale, eventually leading to services and products of value.
Behind the success of agile working at BBVA Compass are teams entitled "scrums", which share the same collaborative work environment and include employees from various areas of the bank, ranging from technology to business service lines. Generally consisting of five to nine people, scrums have a product owner who focuses on the business needs and a scrum master who ensures the efficiency of the agile process. Using multi-colored sticky notes, scrums engage in planning sessions where research and business initiatives, known as epics, are prioritized. As part of the process, they think through specific tasks — these are dubbed "dependencies" — to approach each epic.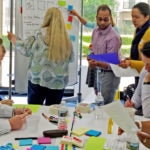 A team (scrum) engages in agile working at BBVA Compass. - BBVA Compass
[Agile working] enables the bank to have more insight and less risk in delivering financial services and products of value to our clients"
"The agile workstyle is a recipe for distinguishing us from the competition and becoming a leading bank in the U.S.", said Quevedo-Price. "It is a flexible and collaborative approach that enables the bank to have more insight and less risk in delivering financial services and products of value to our clients."