BBVA Asset Management: "The world is not on the edge of another global economic crisis"
In 2018, a significant series of external factors caused investors to lose confidence, which resulted in increased volatility in the markets. Still, for the investment team at BBVA Asset Management, the current "positive economic cycle" has not yet reached its end: the world is not on the edge of another global economic crisis.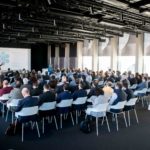 It's no secret for anyone that 2018 was a complicated year with respect to investment. Investors began the year with a positive outlook, but the world's economies and stock exchanges met with some shocks – like the trade war between the United States and China, the rise of populism, and the central banks' tap-dancing around monetary policies – all of which curtailed what looked to be a year full of upside. Just as it does every year, BBVA Asset Management presented its institutional clients with the market outlook for the year and the decisions that were going to go into building their portfolios.
"A year ago we were saying that in 2018 the world was not approaching a recession, and that is what happened." continued Joaquín García Huerga, Head of Global Strategy at BBVA Asset Management. Reviewing the economic forecasts and the markets themselves, with the world in growth, market performance was poor. A phenomenon that was generally expected with regard to fixed income and especially credit – as transpired – but it was unexpected in the stock markets. With the exception of Brazil's stock exchange, all markets closed in the negative, despite the fact that corporate profits rose.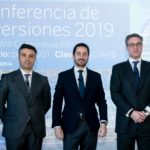 From left to right: Enrique Gómez, from BBVA Quality Funds, Alberto Gómez-Reino, Head of BBVA AM's Institutional Client Investments, and Joaquín García Huerga, Head of Global Strategy at BBVA Asset Management.
In this context, Joaquín García Huerga believes it is rather unlikely that United States will slip into recession at least for a period of three to six months. This probability only begins to be significant when considered in time frames of a year or more.
"It's an atypical year. The markets have suffered a steady and significant loss of confidence," stated Alberto Gomez-Reino, head of BBVA AM's Institutional Client Investments.
This scenario of increased commercial and geopolitical tensions has to be taken in the context of the trend initiated a few years ago: the Federal Reserve's normalization of its monetary policy. This translates into more pressure on corporate and public debt, and on the valuation of some financial markets such as stock exchanges or corporate bonds.
A scenario of potential low rates of returns in the medium term is maintained, given the elevated valuation of the major asset classes. "We continue to believe that we must keep improving portfolio profit potential by increasing the diversification of asset classes, moving away from a European focus toward a more global one, and incorporating new asset classes similar to the absolute return or private markets strategies," said Alberto Gomez-Reino.