BBVA Bancomer appoints Eduardo Osuna Osuna as new general manager
BBVA Bancomer today announced that it has appointed Eduardo Osuna Osuna as its new general manager, replacing Vicente Rodero Rodero, who, since October 1, 2012, has been the vice chairman of the Board of Directors and the bank's general manager.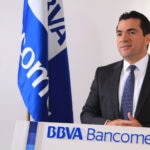 The Mexican Eduardo Osuna Osuna has had a long and successful career at BBVA Bancomer, which started in August 1994. Mr. Osuna knows the bank and the banking and financial industries very well, and has a broad view of all the bank's businesses and segments, as he has been the general manager of Hipotecaria Nacional (2006-2010), general manager of Commercial Banking (2010-2012) and general manager of Corporate and Institutional Banking (2012-2015).
Eduardo Osuna holds a degree in mechanical-electrical engineering from the Universidad La Salle, with a major in M&A from the Columbia School of Business. Mr. Osuna also has a Master's in Business Management.
By appointing Mr. Osuna as the general manager of BBVA Bancomer, the financial group guarantees the stability of its business plans and activities, ensuring that it will continue to be the leader of the banking sector in Mexico. Vicente Rodero said: "I have submitted the appointment of Eduardo Osuna Osuna as the general manager of BBVA Bancomer to the Board of Directors. I am convinced Osuna is a Mexican executive with the talent, experience and knowledge of the industry and financial market, and with the skills necessary to forge ahead with BBVA Bancomer's business plans and activities. Eduardo Osuna will ensure that BBVA Bancomer continues to be the most important bank in Mexico, as the bank remains focused on the targets set in lending, customer service and the bank's development in the digital world."
After achieving solid results at the helm of BBVA Bancomer, now Vicente Rodero will return to Spain to run the Country Networks unit, a recently-created business area whose mission is to boost the results of the franchises by focusing on the management of the branch networks throughout the BBVA Group's footprint: as the head of all the BBVA Group's business units in Spain, United States, Mexico, Argentina, Colombia, Chile, Paraguay, Peru, Venezuela, Uruguay and Turkey. The country managers of each country will report directly to him.
The chairman of the BBVA Bancomer Board of Directors, Luis Robles Miaja, who is also currently the President of the Mexican Banking Association (ABM), expressed his approval of Eduardo Osuna's appointment: "I'm convinced that Eduardo is the ideal person to continue the excellent work done by Vicente Rodero and I am certain that he will carry out all the plans in place to consolidate BBVA Bancomer's leadership in the Mexican financial market."
With these appointments, this is the new organization chart.