BBVA boosted its support for the global expansion of Spanish companies by 27 percent in 2022
BBVA supported Spanish companies with €28.1 billion earmarked for their global expansion in 2022, 27 percent more than in the previous year. Growth was driven by both finance and guarantee products and services for expansion into foreign markets, alongside solutions to mitigate the risks involved in international business. The bank also offers digital tools and support services that help companies in their day-to-day international operations, thereby aiding their growth in overseas markets.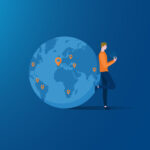 Spanish companies that relied on BBVA to expand their international business in 2022 received guidance from a team of almost 60 specialist account managers. BBVA's international and cross-border solutions experts help companies optimize business opportunities worldwide: launching overseas operations, diversifying their global footprint or reinforcing an international trade strategy.
In addition, the bank's business customers enjoy access to a wide range of digital capabilities through online banking that enable them to easily manage and monitor their international transactions. Functionalities include payments in more than 50 currencies, online finance, and exchange rate risk management through simulators and hedging products.
BBVA also offers SMEs that are beginning their international expansion journey free tools designed to help them explore new markets and enhance their growth potential abroad. For example, the bank provides market reports, functionalities for finding new customers and suppliers, details on import and export requirements, international tender search engines and export cost calculators.
Beyond the strictly financial field, BBVA has partnered with several strategic allies that supplement its support to companies in their international ventures: ICEX to provide support in foreign implementation, Usyncro to digitize documents in the logistics chain, Truckster for logistics solutions by road in Europe, and Asitel for translation and interpreting services.
Single point of contact across all geographies
In addition to the team of specialized account managers, companies wishing to expand abroad benefit from the assistance of an international coordinator to support them in the geographies within BBVA's footprint. Serving as a single point of contact, the international coordinator enables companies to quickly and easily contact a personalized manager in the destination country who will help them open accounts, raise finance and manage their cash flow in liaison with their account manager in Spain.
This service is combined with a global online banking platform, BBVA Pivot, which operates in all geographies via a single website. Available transactions include all the usual procedures, such as payments, collections and payroll, via a single global gateway for all local business operations. With this tool, companies can manage their finances seamlessly across 15 countries that vary in terms of regulations, timetables and currencies.
International award-winning service
BBVA has been featured in the 'Global Finance Best FX Banks Awards 2023' as Best Global Foreign Exchange Bank 2023 and as the provider of Best FX Solutions for Corporates. In addition to winning the global award, the bank was honored for its regional performance in Spain, Latin America, Colombia and Peru.
These awards honor BBVA's commitment to its business customers in Spain and in all geographies within its footprint, where it supports companies on a personalized basis and delivers the best digital solutions.