Last year was a big year – the best year, in fact – for BBVA Compass Retail Banking.  
The retail bank unit, with a 644-branch network, not only realized its best year ever in customer growth, nearly doubling growth from the prior year, it also ramped up productivity and achieved record profits. And if that weren't enough, the team tripled its in-branch mobile demos, reached the top level of retail network and mortgage origination Net Promoter Score (NPS) and improved workflow both inside and outside the branch.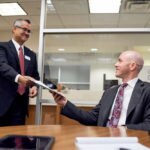 BBVA Compass Head of Retail Banking Çagrı Süzer says given the accomplished team he directs, the tale of the tape at year's end wasn't all that surprising.
"This team has a strong culture of doing what's right for the customer, with special attention paid to their unique financial situation," he said. "Combine that with the partnership and support the Retail had from all other areas of the bank and the impossible is not just possible, it's probable."
Süzer said the Retail team further benefited from leadership that put people first and invested in their success, making sure the right people were in the right jobs, investing in coaching, and providing the needed technologies and tools.
Of course, he said, the key was having the right product mix, without which this scale of profitability, productivity and growth would be challenging.
"We have the right products," Süzer said. "And, we spent a great deal of time last year simplifying the mix to make the products easily explainable, but also completely transparent, which is key to putting customer's interests first."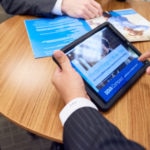 Retail branches are an increasingly important part of the BBVA Compass' digital transformation. The bank's retail network is supporting a "universal banker approach" with innovative technologies, including its proprietary customer service application Client Vista. The application provides a 360 degree view of client relationships and is used by bankers via tablets to mobilize, streamline and personalize the banking experience for customers from inside or outside the branch.
Asked about how the approximately 5,000 member Retail Network efforts contributed to the BBVA Group's digital transformation goals in 2018, Süzer pointed to the bank's efforts in the mobile arena, saying that across the 644 branches, an average of more than 40,000 demos of the bank's mobile app were conducted each month. Those demos prompted customers to shift their commodity transactions - like check deposit - into the mobile app, freeing network employees to focus their efforts on building relationships with customers and helping them through the other aspects of their financial journeys.
He also recognized his Retail product team, whose efforts were focused in 2018 on digitizing customer experiences to add efficiency and convenience to their dealings with the bank.
"Having the ability to obtain the bank's products through digital channels is hugely important to ensuring an efficient and profitable digital transformation," he said. "Our research tells us that if a customer lives within three miles of the branch, their response rate on digital products is 30 percent higher. And, for those customers that get a product via digital, the relationship increases by 50 percent."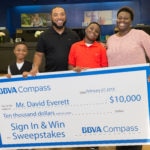 BBVA Compass created the opportunity for clients to realize the convenience of banking digitally with its 2018 Sign In & Win Sweepstakes. Birmingham-area customer David Everett was the grand prize winner of the first sweepstakes and awarded $10,000 for simply making a mobile deposit via the BBVA Compass Mobile Banking App.
Looking forward, Süzer says he sees opportunities for improvement and further growth in 2019, indicating the ability to bank outside the branch that the bank's front-end sales and service application, Client Vista, provides will be one key. He also pointed to the bank's desire to grow loans and fund those loans through deposits as an opportunity to demonstrate the ability of the Retail team.
"Liquidity - and the increased competition among banks for it - is a challenge that we'll have to work our way through in 2019," he said. "But, I see it as an opportunity to demonstrate our value, because we have people who are focused on meeting these challenges head on. We saw marked improved in 2018, and I expect nothing less in 2019."
---
To learn more about BBVA Compass consumer products and services, click here.