BBVA Compass boosts its San Diego commercial banking office with three new relationship managers
SAN DIEGO — BBVA Compass is boosting its greater San Diego commercial banking team with three new relationship managers, San Diego Market President Roger Zucchet announced today, a move that reflects the bank's strong focus on building its brand in California.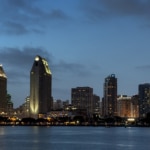 The three new Commercial Relationship Managers are Mary Abad, Rick Martinez and Yandro Valdez. Led by Zucchet, they will develop commercial banking relationships in the greater San Diego market and deliver the global resources of BBVA Compass to local commercial clients.
"Roger has built a phenomenal team for us in San Diego, and the fact that he's been able to do so in relatively short order speaks to his reputation and his ability to draw top talent," said BBVA Compass California CEO Everett Orrick. "Together, they boast impressive international experience, which is important considering the high concentration of companies with cross-border ties in the area. We're excited to see what this new, energetic team can do for our clients given the global resources and reach of BBVA."
Orrick: They boast impressive international experience, which is important considering the high concentration of companies with cross-border ties in the area
BBVA Compass is the U.S. subsidiary of Spain-based BBVA, which operates in dozens of countries around the world. Its BBVA Bancomer is the largest financial institution in Mexico.
Today's news comes just weeks after BBVA Compass announced it had named a new city president for its commercial banking office in Los Angeles, its first dedicated strictly to the greater L.A. market, and added a relationship manager there as well.
Zucchet became market president in San Diego in August 2017. A third-generation San Diegan,  he started his commercial banking career more than 15 years ago, and prior to that held various leadership and business development roles in the IT industry. Zucchet also has served on the boards of the San Diego History Center and Arthritis Foundation. He holds a bachelor's in business economics from the University of California at Santa Barbara and a master's in management information systems from the University of Illinois.
Now rounding out Zucchet's team in San Diego are:
Mary Abad, Corporate Relationship Manager
Abad has almost 15 years of experience in banking, serving large and middle market companies across various industries, including consumer, healthcare, infrastructure, private equity and franchise. She has worked in Asia and Latin America and is an active member of San Diego's international community. She was appointed by the mayor to serve on the City's International Affairs Board and is on the Board of San Diego's World Affairs Council. She also serves on the Strategy Board for Self-Help Federal Credit Union in City Heights, and is a member of the Association for Corporate Growth (ACG) and Corporate Directors Forum. Abad is a graduate of Stanford University, Columbia Business School and the Johns Hopkins School of International Relations.
Rick Martinez, Corporate Relationship Manager
Martinez brings more than two decades of finance and commercial banking expertise, with particular experience dealing with small- and mid-size companies in the San Diego market. He has held various banking positions with community, regional, and large banks. Martinez has a bachelor's degree in business administration from San Diego State University.
Yandro Valdez, Corporate Relationship Manager
Valdez has more than 15 years of banking experience across multiple industries, including:  automotive, manufacturing, distribution, multinational corporations, asset-based lending, and more. He is an associate board member of The Covenant House, a humanitarian aid organization that focuses on rehabilitating homeless youth in major U.S. cities and Latin America. He also is a member of the San Diego Hispanic Chamber of Commerce. Valdez received his MBA from the UCLA Anderson School of Management and his bachelor's from Florida International University.