BBVA Compass, Houston Dynamo announce four finalists for second installment of "The Pitch"
On May 1, BBVA Compass, through its Bright Futures initiative, and the Houston Dynamo kicked off Small Business Month by launching the second installment of "The Pitch."  Small businesses and start-ups were encouraged to submit a business plan describing why they have a bright future in their industry.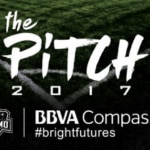 Four finalists were selected from more than 130 submissions by a panel of judges from BBVA Compass Bank, the Houston Dynamo, SCORE, Houston Hispanic Chamber of Commerce and the East End Chamber of Commerce. As Small Business Month came to a close, the finalists were announced during the game against Real Salt Lake. The contest is one of multiple BBVA Compass small businesses initiatives tied to its "Year of Opportunity for Small Businesses" campaign.
"It was an honor being part of the panel that chose these deserving finalists," said BBVA Compass Houston CEO Mark Montgomery. "All four of these businesses have a bright future ahead, and I can't wait to see how the fans vote. Small businesses are the cornerstones to thriving communities, and a huge opportunity sits right in front of these finalists. I'm happy to have assisted in creating that opportunity with my colleagues and friends at the Dynamo."
All four of these businesses have a bright future ahead.
Each of the finalists was asked to produce a short video about themselves, and fans now have the opportunity to log on to HoustonDynamo.com to watch the videos and select which business they think should be the winner.
The four finalists are SoccerChik, BrainCheck, Circular Board and Small Places LLC.
BrainCheck is a five-minute cognitive assessment used to determine brain health. Available on iPhone, iPad and desktop, and in English and Spanish, BrainCheck can be used to monitor brain health for the safety of athletes everywhere.
Circular Board is a Houston-based technology company that helps female entrepreneurs grow their businesses through global and local events, a virtual accelerator and the world's first artificial intelligence platform for entrepreneurs, "Alice."
Small Places LLC runs Finca Tres Robles, the only farm located inside Loop 610. Growing organically on 1.5 acres of land in Houston's East End, the farm is a unique asset to the 2nd Ward providing fresh produce, education, and events for its community.
SoccerChik is a fashion apparel brand that exhibits the owners' deep passion for soccer and fashion. They believe that you can wear the sport you love with a kick of fashion, and their collections add a stylish flair to the fellow enthusiast wardrobe.
Voting will run through Thursday, June 8 at 5 p.m. CDT, and the winner will be announced on Monday, June 12 on HoustonDynamo.com. The winner will also be recognized on the field Friday, June 23 when the Dynamo take on their in-state rival FC Dallas at BBVA Compass Stadium.
For more information or to vote visit http://www.houstondynamo.com/bbvacompasspitch.