BBVA Compass joins championship festivities during Crimson Tide parade
BBVA Compass was an official supporter of the Alabama Crimson Tide's championship parade this past Saturday, Jan. 20, helping the school celebrate its College Football Playoff National Championship.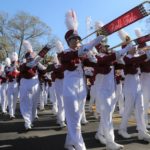 The parade and program featured Nick and Terry Saban, the players and coaching staff along with Big Al, the school's mascot, the Million Dollar Band and the Crimson Tide cheerleaders. The parade concluded at the Walk of Champions with a ceremony on the top steps of the Bryant-Denny Stadium North End Zone.
The program also included Director of Athletics Greg Byrne, Executive Director of the College Football Playoff Bill Hancock, SEC Commissioner Greg Sankey, AFCA Associate Executive Director Gary Darnell and other dignitaries and special guests.
The bank's support of Alabama's parade was yet another piece of BBVA Compass' help in celebrating the school's 17th national football championship. In what is becoming a frequent tradition, the bank announced is offering an updated Bama-branded Visa® debit card.
We're excited to... give fans a way to carry their team pride everywhere they go.
"Alabama fans once again celebrated an amazing moment in their school's decorated football program and we're taking the opportunity to help them celebrate by highlighting their 17th national championship on this card," said BBVA Compass Chief Marketing and Digital Sales Officer Jennifer Kelly Dominiquini. "With our headquarters in the state of Alabama, we're excited to see another Crimson Tide championship and give fans a way to carry their team pride everywhere they go."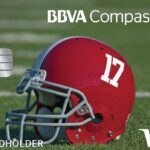 BBVA Compass offers an updated Bama-branded Visa® debit card to help football fans celebrate the University of Alabama's 17th national championship win.
BBVA Compass also offered similar debit cards after the school's championship victories in 2012, 2013 and 2016. The card will feature an exclusive image of the iconic crimson and white football helmet inscribed with the number 17 for new and current checking account customers.
Click here to read more about the BBVA Compass Bama-branded Visa® debit card.
For more information on Bama® Banking and customized card options, click here.