BBVA Compass launches Year of Opportunity for Small Business, dedicates May to fortifying fundamentals
BBVA Compass, already punching above its weight in its drive to become the lender of choice among small businesses and entrepreneurs, is launching a Year of Opportunity for Small Business by marshaling its expert employees to lead more than 70 workshops in May on the financial fundamentals of running a small business.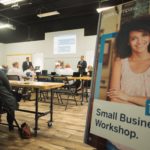 The workshops are being held in all seven states across the Sunbelt where BBVA Compass has a physical presence — Florida, Alabama, Texas, Arizona, Colorado, New Mexico and California. They are part of the first of multiple campaigns the bank will initiate for its Year of Opportunity for Small Business, which kicked off during Small Business Week in early May and is designed to give small businesses the service, expertise and products they need to seize opportunities and fully realize their bright futures.
"Small businesses are the engine of growth for our economy," said Lonnie Hayes, BBVA Compass Small Business Segment Executive. "More than half of Americans either work for or own a small business, and those businesses create about two-thirds of the new jobs in this country every year. They're creating a staggering amount of opportunity, and we want them to know that whatever they need — the capital to expand, the knowledge to thrive — we're here to help provide it."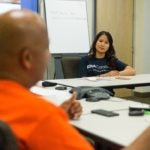 Small-business leaders gathered on May 17 at the Contra Costa Small Business Development Center in Pleasant Hill, Calif., for a BBVA Compass-sponsored workshop.
The curriculum for the workshops is available through the BBVA Compass Center for Financial Education, which offers online and in-person adult financial education courses. Developed in partnership with leading education technology firm EverFi, the small business curriculum includes five modules on topics such as how to use and obtain credit, develop a business plan and understand financial statements. It's designed to give small-business owners the financial management tools they need to successfully grow and maintain a healthy enterprise.
The bank's $6.2 billion commitment
The workshops are part of BBVA Compass' comprehensive, coordinated effort to serve small businesses. The nation's 22nd-largest bank by deposit market share, BBVA Compass is now the fifth most-active lender by total number of loans for the SBA's flagship 7(a) loan program, approving 1,801 such loans in the fiscal year that ended in September 2016. Other banks in the top five included some of the largest in the country, with Wells Fargo, JPMorgan Chase and U.S. Bank claiming spots.
Part of the bank's success is due in part to its commitment in late 2014 to make $6.2 billion in small business loans over the next five years. By the end of 2016, BBVA Compass had made nearly $2.4 billion in loans to small businesses.
"We're putting Main Street on firmer capital footing, and some of our most innovative work is being done in the service of small businesses," said Hayes, the bank's Small Business Segment Executive.
Entrepreneurs and small-business leaders from the Upper Rio Grande Valley gathered on May 11 at Grindstone Coworking in Edinburg, Texas, for a BBVA Compass-sponsored workshop on entrepreneurship and the ins and outs of writing a business plan, using business credit, and understanding financial statements.
For instance, BBVA Compass mined data to help it identify branches that have high concentrations of small businesses within a 5-mile radius. It gave the managers of those branches advanced training so they can better meet the lending needs of microbusinesses, which generate less than $1 million in annual sales.
For more information
To determine if there is a BBVA Compass Small Business workshop being held in your area, email volunteers.us@bbva.com. And to learn more about BBVA Compass' Small Business Banking Services, go to www.bbvacompass.com/business.