BBVA Compass leads the way for new Degas opening at the Museum of Fine Arts Houston
BBVA Compass added another brush stroke to its big picture commitment to the arts, becoming the lead corporate sponsor of "Degas: A New Vision" at the Museum of Fine Arts Houston.
The exhibition features more than 200 pieces by celebrated Impressionist Edgar Degas, taken from public and private collections from around the world. It is the most significant international survey of the work of Degas in nearly 30 years, and the Museum of Fine Arts Houston is the only U.S. venue to present the exhibition. It opened on Oct. 16.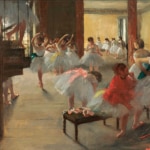 "Degas is a master and this is a coup for MFAH, so we're proud to show our support," said BBVA Compass Chairman and CEO Manolo Sánchez. "Art like this has the power to change lives, which is why we're committed to making it accessible. And doing so in Houston is especially gratifying since it's such an important market for us."
"Art like this has the power to change lives.
1

Edgar Degas, Rehearsal Hall at the Opera, Rue Le Peletier

1872, oil on canvas, Musée d'Orsay, Paris. © RMN-Grand Palais (Musée d'Orsay) / Hervé Lewandowski

2

Edgar Degas, Edmondo and Thérèse Morbilli

c. 1865, oil on canvas, Museum of Fine Arts, Boston, gift of Robert Treat Paine, 2nd.

3

Edgar Degas, The little fourteen-year-old dancer

1879–81, bronze with cotton skirt and satin ribbon, Museu de Arte de São Paulo, Assis Chateaubriand.

4

Edgar Degas, Racehorses in a Landscape

1894, pastel on paper, Carmen Thyssen-Bornemisza Collection on deposit at Museo Thyssen-Bornemisza, Madrid

5

Edgar Degas, The Dance Class

c. 1873, oil on canvas, National Gallery of Art, Washington, Corcoran Collection (William A. Clark Collection)
It marks the second time BBVA Compass has stepped in as lead corporate sponsor to bring important works of art to Houston. In 2012, it sponsored an exhibition from Madrid's famed Prado — the first time a collection of its size was ever shown outside of Spain. BBVA Compass also donated $8 million to fund the MFAH Glassell School of Art's new roof garden, the largest donation the bank has ever given to any organization.
The Degas exhibition features the French artist's paintings, drawings, photographs, prints and sculpture. The survey was curated by Henri Loyrette, a former director of the Louvre, along with MFAH director Gary Tinterow, who were both on hand in a preview event on Oct. 14 to discuss select pieces with local media.