BBVA Compass Mobile Banking App adds budgeting and spend tracking tools in latest release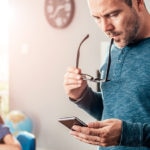 Already available in online banking, BBVA Compass Financial Tools for mobile helps clients track spending and manage budgets. Clients are also encouraged to add outside accounts for an accurate and full picture of their financial health.
"With a consistent increase in mobile penetration among our customer base year-over-year, we know customers are using our mobile app to manage their finances and their financial health," said BBVA Compass Head of Online and Mobile Banking Alex Carriles. "Because controlled spending and budgeting are key to long term financial health, it's important for us to have tools that help them do these important tasks in the platform they most prefer."
BBVA Compass Financial Tools are made available in coordination with MX, the leader in actionable financial data. The tools presently available to customers in mobile include:
Spending: Clients can see the percentages of their spending as it pertains to each transaction category. If they tap on a section, they will see how much they spent in each category.
Budgets: A chart that shows clients' monthly budget. Budget categories change color from green to yellow and red if the client exceeds set spending limits. The visual approach is designed to quickly convey targeted spending and progress toward monthly budget.
Accounts: Allows clients to links and manage their external financial accounts so they can easily view their full financial life in one place. Clients can link everything from checking, savings and money markets to investments, credit cards, insurance, property and more from virtually any financial institution.
"It's true that we are constantly adding more functionality to our mobile app, with releases nearly every month," said Carriles. "But, it's not just functionality for functionality's sake. We add tools that our customers have told us they want and need in order to manage their financial lives."
Carriles: We add tools that our customers have told us they want and need in order to manage their financial lives.
In addition to BBVA Compass Financial Tools, functionality that has been added to the bank's mobile app in the past six months includes:
Green Button: Clients can use the so-called green button on the homepage of the Mobile Banking App to apply for new banking products, including checking and savings accounts, money markets and Express Personal Loans.
HELOC, Personal Line of Credit or Business Line of Credit Advances: Clients with a Personal Line of Credit (PLOC), Home Equity Line of Credit (HELOC), or Business Line of Credit (BLOC) can perform advances via Mobile Banking.
International Transfers: International Transfers provides clients with the ability to transfer funds to designated recipients in Mexico and Other select countries. Clients can conveniently enroll, add/delete payees, and originate or cancel these transactions through Mobile Banking.
Activate a Credit or Debit Card: Clients can activate the card(s) directly from the Mobile App without having to call first.
Disable or  Block a Credit or Debit Card: If your card is lost or stolen, or fraudulent charges are being made on it, clients can use the app to block or disable the card.
Request Replacement Debit or Credit Cards: Over time, cards can become worn and the need for a replacement is clear. Clients can now order a new credit or debit card through the mobile app.
Consumer Credit Card Balance Transfers: Clients with a BBVA Compass Consumer Credit Card can request a credit card balance transfer via mobile banking. This means BBVA Compass will pay another creditor the balance owed by the client and it will be transferred to their BBVA Compass credit card account.
Consumer Debit or Credit Card Transaction Alerts: With so much concern these days about identity theft and fraud, closely monitoring your financial accounts is the best defense in detecting unusual account activity faster. With Alerts from BBVA Compass, it is easier than ever to do.
Ability to Send Alerts via Push Notifications: When account alerts are activated, clients can enable them to be sent via push notifications so they are immediately aware of important changes to their accounts.
Functionality Search Tool: Clients can use this tool to navigate directly to functionality or information within Mobile Banking, either by typing a question, or just talking to the app.
Pre-filled Direct Deposit Form: Clients with a checking, savings, or money market account have the ability to save, print, text or email a prefilled Direct Deposit form via Mobile Banking.
Bill Pay: Updated Bill Pay allows clients to pay virtually anyone in the United States that they would normally pay by check or automatic debit; even if the client does not receive bills from the company or person. The updated experience includes in-app enrollment, auto bill pay, payment reminder notifications, set up, view and file electronic bills.
The BBVA Compass Mobile App was named Best Mobile App by Money® magazine in 2015, Javelin Strategy & Research's Mobile Banking Leader in Functionality Award three times in as many years and Javelin also named it a leader for its ease of use in its 2017 Mobile Banking Scorecard.
---
For more information on the BBVA Compass Mobile Banking App, click here.