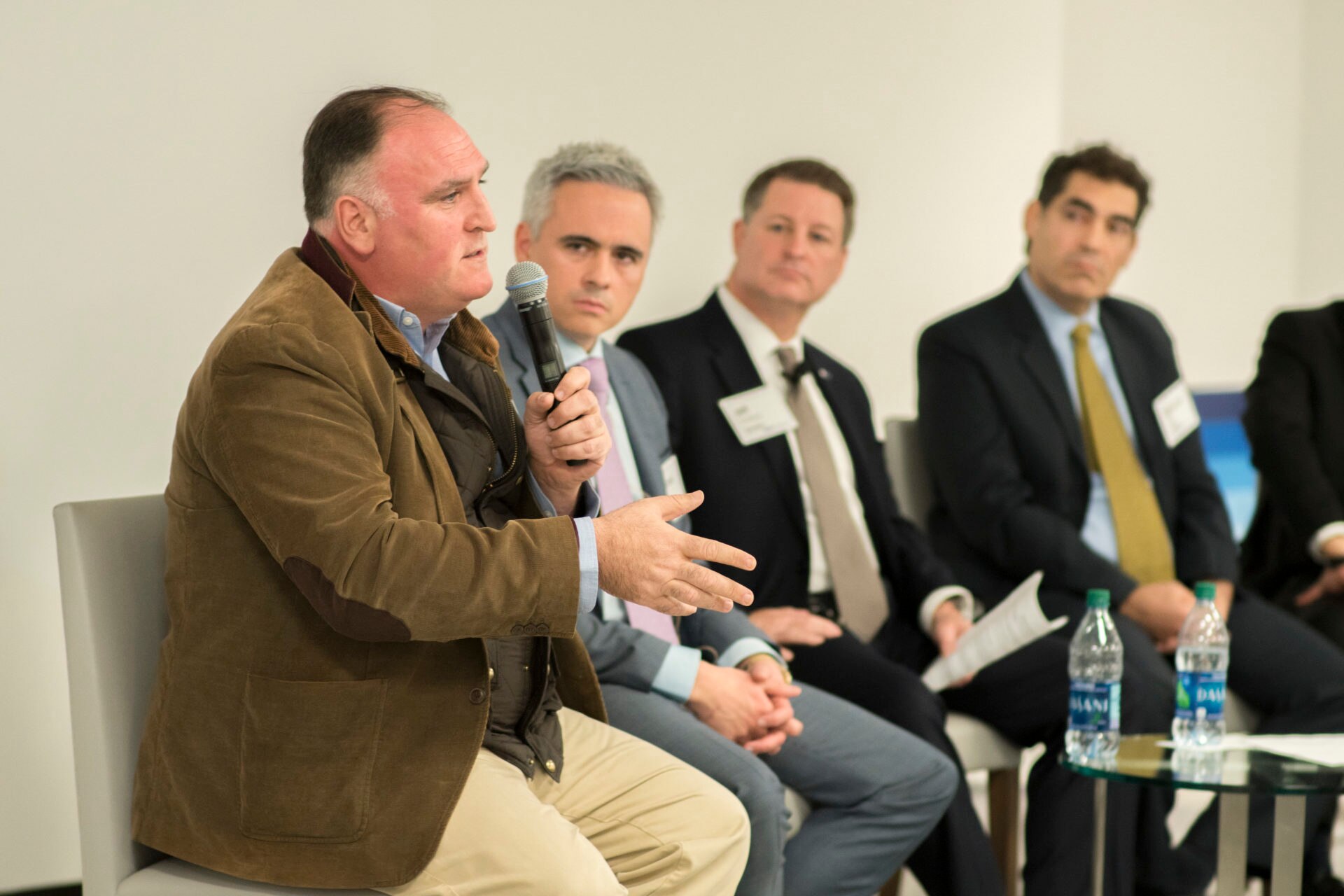 At BBVA Compass, panel dissects the risks facing bank's cross-border clients
BBVA Compass assembled a worldly-wise panel in Houston last week to help its Global Markets clients, all of whom maintain assets outside the U.S., sort through the barrage of global economic news to better understand the risks.
The special guests on the panel were José Andrés, the Michelin-starred chef who was named one of Time's 100 Most Influential People and is a fierce advocate for small businesses; and Antonio Peña, a partner at global legal giant Greenberg Traurig who has been involved in a number of cross-border mergers and acquisitions, joint ventures and other corporate matters. The panel was anchored by a team of economists and experts from across BBVA's own businesses — BBVA Compass Chief Economist Nathaniel Karp; Ociel Hernandez, head of Research Rates, FX and Credit for BBVA Bancomer, the No. 1 bank in Mexico; and Alejandro Cuadrado, the head of Global FX Strategy and Latin America Research at BBVA New York.
The purpose of the event was to bring to bear the bank's experts in a forum for clients to help them make sense of a rapidly changing world.
"BBVA has been around for more than 150 years and now operates in dozens of countries," BBVA Compass CEO Onur Genc said in opening the panel. "We've seen a thing or two, in other words. And with so much going on in the world today, you need to be able to differentiate what matters with what matters less. How do you evaluate all of the different risks you're facing and respond to them appropriately? We believe our global experience can help guide you, to say the very least."
'Ample reason for optimism,' but …
The three economists on the panel talked about the U.S. tax reform; the new chair of the Federal Reserve and how he could shift monetary policy; and the prospects for NAFTA, the North American Free Trade Agreement, among other things.
"There's ample reason to be optimistic about the U.S. economy," said Karp, the bank's chief U.S. economist. "But we need to be careful in terms of numbers when talking about the tax reform's impact. For individuals, the overall impact will be small because the biggest cuts are going to the high-income earners and they tend to save rather than spend."
Karp said he expects to see much more activity on the corporate side, where companies will be able to expense their capital investments.
"We do expect to see a boost in investments, which hopefully will lead to hiring and higher wages," he said. "But this is going to vary a lot by sector. In the financial services sector, for instance, we expect to see banks doing a lot of investing in their infrastructure — technology upgrades and so on. But in the tech sector itself, we expect a lot of the tax reform's benefits to be returned to shareholders since that sector is so flush with cash already."
Elections across Latin America
The panels also spent a considerable amount of time discussing the political climate across Latin America, where several countries will be holding elections.
"It's a challenging cycle," said Peña, the Greenberg Traurig partner, listing upcoming elections in Mexico, Brazil and Colombia and various political challenges elsewhere throughout Latin America. "Investors want certainty but lots of elections lead to lots of uncertainty."
Peña: Investors want certainty but lots of elections lead to lots of uncertainty
That uncertainty can make certain currencies volatile, which in turn can have an unsettling effect on companies with cross-border operations. BBVA Bancomer's Hernandez said he expects the upcoming elections will no doubt inject more volatility into the Mexican peso. And Cuadrado, who's based in New York, said volatility is already affecting clients through the weak dollar.
"Foreign exchange is hard to predict but it's fair to say that bottom lines will be affected," he said. "We've been recommending certain strategies throughout the last months to help offer some coverage."
Rousing tribute to small businesses
José Andrés, who said he left school when he was 14, joked about his presence on the esteemed panel. "I think they invited me to the wrong panel," he said. But it was no mistake: Andrés' ThinkFoodGroup operates 27 restaurants throughout the country, including the two-Michelin-starred minibar by José Andrés in Washington, D.C. Andrés is known not only for his innovative cuisine but also for his philanthropy work, and during the panel he spoke about his recent work helping hurricane victims in Houston and Puerto Rico, where he said he helped open 21 kitchens in 21 days in Puerto Rico that at their peak were feeding 175,000 people a day and to date have served more than 3 million meals. Then he delivered a rousing tribute to the power of small businesses.
"Small businesses, we are the DNA that's creating the heart of who we are as Americans," he said. "I saw it in Puerto Rico, in Houston. Yes, we want big companies, but we're going to have to maintain a very good kind of balance between the right big companies and the right kind of small businesses. Because in the good moments, we need them for growth. And in the bad moments, more often than not, it's small businesses that are the ones that are really making sure a community is being taken care of."