Riding the wave of next-gen delivery services, BBVA Compass today announced that it has been piloting Amazon Locker at 11 Austin-area BBVA Compass branches.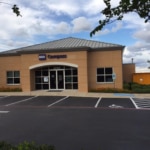 The inclusion of this community centric amenity marks one of the first entries into Texas for the Amazon Locker program, and the first time Amazon Locker will be available with a bank in the United States. For BBVA Compass, the piloting program is in keeping with its laser focus on innovation and collaborating with those exploring new and better ways of delivering customer solutions.
"BBVA Compass preaches disruption from within and without when it comes to creating the best possible solutions for its customers," said BBVA Compass Director of ATM Channel and Branch Strategy & Design Andres Cueto. "Amazon is much the same, constantly pushing the envelope in terms of providing new and differentiated products and services. We couldn't be more thrilled to offer Amazon Locker at our branches to our customers and the greater community."
The fully automated Amazon Locker is a safe, secure and convenient solution for picking up Amazon orders. Customers can choose the service when checking out on Amazon.com, and upon delivery, the customer will receive an email with a code to enter at the Amazon Locker location. There is no additional cost to use Amazon Locker.
BBVA Compass Austin branches with Amazon Locker allow for 24-hour pickup, and include the following locations:
For more on the Amazon Locker program, please visit www.amazon.com/locker.