BBVA Compass' Rosilyn Houston recognized as a powerful business force by Black Enterprise
BBVA Compass Talent & Culture Executive Rosilyn Houston is among a group of corporate female heavyweights named by Black Enterprise as 2017's "Most Powerful Women in Business".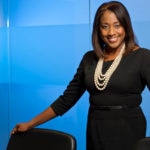 Headlining its Jan./Feb. issue, Black Enterprise recognized Houston and other top-ranked business leaders as the "Most Powerful Women in Business", a research-based listing which spotlights influential executives who are contributing to the business priorities of their organization. True to her Black Enterprise recognition, Houston said she is heavily invested in supporting BBVA Compass' pursuit to foster a first class workforce.
"Black Enterprise is committed to bringing the age of opportunity to all entrepreneurs and professionals throughout this nation through exposure, education and empowerment," said Houston. "This closely reflects BBVA Compass' and my personal mission to shine the light on all our people by engaging them with the resources they need to achieve a bright and purposeful career."
Houston's career path showcases how she rose through the ranks to earn her role on BBVA Compass' Management Committee. She began her banking career nearly 30 years ago as a part-time teller, eventually taking on district- and regional-level leadership roles at BBVA Compass, including North Texas regional executive for Consumer and Commercial Banking and retail executive of California and the East Region. Under her direction from 2011 to 2014, the East Region, which includes Alabama and Florida, had the bank's top performing profile in operating profit and efficiency ratio and scored high in customer satisfaction for three consecutive years.
I'm in a position to help others, from all walks of life, find their road to success and become powerful business leaders
Named BBVA Compass Chief Talent & Culture Executive in June 2015, Houston has been bringing her title to life and leveraging her professional journey as fuel to create opportunities for the bank's diverse workforce.
"BBVA Compass has been instrumental in my professional endeavors, and now I'm in a position to help others, from all walks of life, find their road to success and become powerful business leaders," stated Houston. "I have the privilege to positively affect our business by investing in our people."
Among Houston's recognitions are being named as one of "The 25 Women to Watch" by American Banker and making an appearance in Al.com's 2016 listing of "Women Who Shape the State".
On Mar. 10, Houston joined her "Most Powerful Women in Business" peers to receive acknowledgement during Black Enterprise's 2017 Women of Power Summit in Phoenix.
The editorial and research teams of Black Enterprise, a targeted business-oriented publication with a monthly readership of six million, referenced its Corporate Directors registry and past listings, consulted associations and reviewed bios and resumes to identify the "Most Powerful Women in Business", which includes industry leaders who hold C-suite or executive positions for some of America's largest companies.