BBVA enables SMEs and the self-employed to find out about direct solvency assistance in Spain
BBVA has launched a digital tool in Spain that provides SMEs and the self-employed with a simulator to find out if they are eligible for direct aid from the Spanish Government under Royal Decree Law (RDL) 5/2021. The assistance package is aimed at protecting the productive fabric in the sectors hardest hit by the COVID-19 pandemic. By entering the details of their business activity, customers and non-customers can find out if they meet the requirements for accessing the aid, the amount they would receive and how to apply. Thanks to this solution, small businesses will be able to carry out a preliminary assessment and anticipate an application for aid.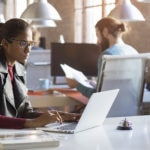 Since the onset of the pandemic, BBVA has sought ways to help the self-employed and SMEs mitigate the effects of the coronavirus on their business. After the various ICO lines, the new tool that the Bank has added to its website and mobile app provides SMEs and the self-employed with information on aid to support business solvency. BBVA wants to provide a quick response so that they can know to what extent they can benefit from direct assistance.
The process is simple and can be done at any time and from anywhere. Once the solution is accessed over the bank's digital channels, the BBVA customer or non-customer completes a questionnaire with key information: company type, sector of activity - defined according to the National Classification of Economic Activity (Spanish "CNAE") - volume of business in 2019 and 2020, tax address, net income in 2019 or number of employees. Based on this data, the tool offers a diagnosis that reflects whether or not the SME or self-employed worker could be eligible for aid and, if not, what requirements remain to be met.
If the simulator's answer is positive, it will inform you of the amount of the aid, the government body to contact and the documentation to submit, and the debts that can be paid off with the aid.
Eligibility for direct aid
The business solvency support measures put in place by the Spanish Government - with a budget of €7 billion - are aimed at companies and self-employed workers whose turnover in 2020 fell by 30% compared to 2019.
This direct assistance is purpose-oriented. First, payments must be made to suppliers, in order of seniority. If appropriate, the principal of bank debt will be reduced, with priority being given to the nominal amount of government-guaranteed debt. SMEs and the self-employed will be able to use this aid to cover fixed costs, e.g., power supply.
SMEs and the self-employed who want to know if they are entitled to aid can do so by accessing the BBVA simulator here.