BBVA goes purple to support the fight against gender-based violence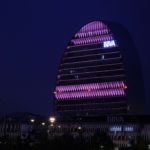 Violence against women is one of the world's most common human rights violations, it is a scourge of our society and a real societal problem that affects women from all educational, cultural and economic levels, and it is everyone's responsibility to collaborate to eradicate it and contribute to build a society free of gender-based violence.
It is absolutely pivotal to keep raising awareness and encouraging people to take a stand and break society's complicit silence on this issue. For this reason, BBVA, a member of the initiative Companies for a Society Free of Gender Violence, within the framework of collaboration with Public Institutions, is sharing this message to contribute to the efforts underpinning the effectiveness of policies against this social scourge and to tell all victims of domestic violence that that they can get out of the situation they suffer and start a new fulfilling life, free from domestic abuse.
In addition to 'La Vela', BBVA illuminates the buildings of its Corporate Headquarters in Mexico, Peru, Argentina, Colombia and Uruguay, as well as the BBVA Foundation in Madrid, which is joining this initiative to show their rejection to gender-based violence.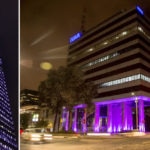 BBVA illuminates the buildings of its Corporate Headquarters in Mexico and Bogota, joining this initiative to show their rejection to gender-based violence. - BBVA