BBVA Group executive chairman Carlos Torres Vila is re-elected, with more than 98 percent of the votes
At his first Annual General Meeting (AGM) as Group executive chairman of BBVA, Carlos Torres Vila was re-elected as a Board member with more than 98 percent of the votes, according to the definitive data of the votation. The shareholders meeting in Bilbao today also supported the appointment of Onur Genç as a Board member of the BBVA Group with 99 percent of the votes. A large number of institutional and minority shareholders participated in the voting, with a quorum over 64 percent.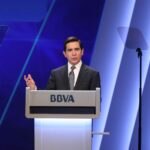 The speech BBVA's Group executive chairman gave at the Annual General Meeting focused on the biggest challenges facing society in the future. These included both environmental challenges, such as the fight against climate change, and social challenges like inclusive economic growth. He also recapped the bank's milestones in 2018, such as surpassing the 50 percent threshold for digital customers; posting very solid financial results - net attributable profit grew 51 percent yoy, which allowed BBVA to continue creating value for shareholders, with tangible book value per share up more than 10 percent including dividends; and being a leader in profitability among competitors.
BBVA CEO Onur Genç then recapped the performance of the business areas in 2018, as well as the prospects for 2019. In his first address to the bank's shareholders, Onur Genç underscored "the solid results" posted by BBVA last year, the improvement of the profitability and efficiency ratios, and the progress in the digitization of the business.
BBVA's AGM approved a complementary gross dividend of €0.16 per share to be paid in cash next April. This dividend represents a 7 percent increase from the amount paid in April 2018. The total dividend for the year stands at €0.26 per share, which amounts to a 37 percent payout of the bank's profit, excluding the sale of BBVA Chile.
Finally, Carlos Torres Vila thanked Francisco González, who presided over the BBVA Group until December 21, 2018, for resigning as honorary chairman of both BBVA and the BBVA Foundation  "until the investigation underway is completed, as he wants to avoid being used to harm BBVA." The BBVA chairman also reiterated that BBVA "has been, is and will be an honest bank and it will continue to act accordingly. We will continue to investigate with the utmost rigor and as swiftly as possible, maintaining our ongoing collaboration with the authorities. And, based on verified facts, we will make the appropriate decisions to resolve this situation, always acting on behalf of the bank, and in your interests," addressing the shareholders.