BBVA Holds Virtual Global Employee Event to Review Strategy
BBVA Executive Chairman Francisco González, CEO Carlos Torres Vila and other Group executives reviewed the Bank's strategy in an event followed live by close to 40,000 employees across the different countries in which BBVA operates. The BBVA members that took the stage spoke from four different countries at the event, titled 'Live @BBVA: Our Strategy," while the audience was able to interact and discuss a number of topics through an app.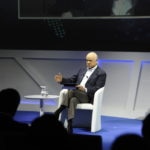 Executive Chairman Francisco González, speaking from the auditorium at Ciudad BBVA in Madrid, started out providing an overview of the current challenging macro situation and the changing landscape in financial services. In this environment, BBVA's Executive Chairman emphasized that the "future depends on our ability to stay at the core of the relationship with the customer" and to that end, the Group is focusing on six strategic priorities:
Set a new standard in customer experience
Drive digital sales
Create/partner/acquire new business models
Optimize capital allocation
Unrivaled efficiency
Attract,retain and inspire a first-class workforce
CEO Carlos Torres Vila, speaking from the BBVA Bancomer Tower in Mexico, delved deeper into the Group's strategic priorities and underscored the importance of knowing the customer and offering solutions that bring an added value to become leaders in customer satisfaction across all geographies.
The conversation followed with participants taking part also from the U.S. and Turkey. In total more than 20 BBVA members highlighted the different advances in each of the priorities, with examples from different geographies and global businesses, while employees could actively take part through the app designed for the two-hour long event. Employees gathered in auditoriums, meetings rooms, offices in the different countries to follow the event that was being streamed live. A recording will also be available for all employees, who will follow up the virtual meeting with local discussions on driving the strategy.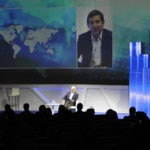 Francisco Gonzalez and Carlos Torres Vila. - Foto: BBVA
As Carlos Torres Vila said, BBVA's strategy emanates from its purpose: to bring the age of opportunity to everyone. BBVA can leverage the use of data and technology to develop solutions that have a positive impact on people and businesses, he said.
In his closing statement, Francisco González stressed the need for transformation to adapt to new competitive landscape in financial services. "We have a winning project," he said. "We have the opportunity and responsibility to build a new BBVA."