BBVA issues Generali's inaugural green bond, the first from a European insurance company and the largest in the sector
Generali has just issued, together with BBVA and seven other banks, its first green bond amounting to 750 million euros. This is the first bond from a European insurance company and the largest to date. BBVA acted as deal manager and joint bookrunner.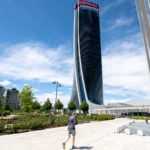 The new issue forms part of the Generali Group's sustainability strategy and represents an important step in fulfilling its commitments in this regard, as it is the first green bond issued by the company. The proceeds of this inaugural bond will be used to finance sustainable buildings, including the development of the CityLife project in Milan.
This operation is part of a liability management exercise to refinance in advance certain references of its outstanding subordinated debt as contemplated in the previously announced strategic plan. In this way Generali reduces its external financial debt by 250 million euros as well as interest costs in the coming years, and achieves a more balanced maturity profile while optimizing its regulatory capital structure.
"We are very happy to boost our presence in the sustainable finance territory with Generali, participating in this innovative and strategic operation involving the entire BBVA value chain" Regina Gil, General Manager, Global Head of Credit BBVA.
The operation has been very well received by investors, with the offer exceeding 3,250 million euros (pre-reconciliation). The size of the issue was 750 million euros at a price of 225 basis points over midswap. Of note was the presence of SRI (Socially Responsible Investment) investors who had the opportunity to meet with the company during the week prior to the issue.
Ángel Tejada, Head of Green and Sustainable Bonds in BBVA, explains: "The issuer is not only issuing a green bond that allows them to align their financing with their green investment activities but also Generali is reaching a very competitive pricing terms taking advantage of the current strong demand for this asset class among institutional investors. The market is very strong so other issuers might follow Generali's strategy after this successful example", predicts Tejada.
BBVA's participation in this first Generali green bond reaffirms BBVA's commitment and leadership in the ESG bond market, having participated in 2019 in 25 green, social and sustainable bonds in euros, US dollars, pounds sterling and in local markets, such as Mexico.  Furthermore, BBVA is the leader in Spain in terms of the volume issued by its clients, according to Dealogic, and is among the top 5 in corporate issues denominated in euros.