BBVA joins forces with Bci to boost its cash management business in Chile
BBVA has selected the Chilean bank Bci as its ally in Chile to provide payment and collection services, also known as cash management. Thanks to this alliance, BBVA's global clients with a presence in Chile will be able to carry out this transaction with BCI through BBVA's global channels.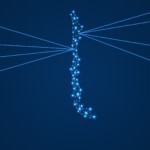 The centralization of financial operations is a growing trend that allows clients with activity in different parts of the world to be more efficient in their treasury functions, which includes the management of banking relationships and accounts, as well as liquidity decisions, foreign exchange and financing. This requires technology that allows centralized operations in various geographies with the support of banks that have a high level of coverage and digitization.
Eva Rubio, Head of Global Transaction Banking at BBVA, says: "In order to offer our clients the widest possible coverage for their cash management operations at BBVA, we are creating alliances with leading banks in countries where we do not have a presence. This alliance with Bci allows us to support our clients with their transactions in Chile, while taking advantage of the benefits of having a single global connectivity, a single contract and a single point of contact."
With the Bci alliance, BBVA makes it possible for customers who already have a direct Host to Host or Swift connection to carry out their cash management operations without needing additional connections with other banks. Simply opening an account with Bci is all that is needed to operate. As of March 2021, BBVA clients will be able to start using these services to pay suppliers in Chile, and other services such as payroll payments and international transfers will be included in the future.
Bci is one of Chile's leading banks, with 244 branches throughout the country. Bci offers a wide range of products and services to individuals, companies and institutions, through specialized business units and subsidiaries, connected to a global network. In Chile it has a significant market share, especially in the business segment, as well as being a benchmark in innovation and recognised for its technology.
BBVA offers access to its global solutions through an enhanced digital experience for multi-country customers that allows them to operate homogeneously with all the Group's banks, enabling customers to have BBVA as their reference bank for all their treasury management operations.