BBVA launches BBVA epricer, a web-based solution for equity and credit investment products
BBVA, in partnership FinIQ, a market leading fintech company, is announcing the launch of BBVA epricer, a website for its equities and credit linked structured products. The website is designed to help professionals structure and obtain prices for equity and credit linked investment products that aim to either provide an enhanced yield or exposure to the underlying investment. In the current environment, where remote work has become the new normal, the website provides a digital channel for BBVA clients to request from the simplest to the most exotic investment proposals.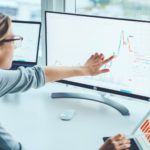 As previously with cash equities, bonds and foreign exchange (FX), the structured products market is currently in the midst of a digitization phase, with both buyers and sellers developing solutions to leverage new technologies for pricing purposes. With BBVA epricer, investors can find out the price for any given structured derivative investment in a matter of minutes, sometimes even seconds, instead of days as before.
In this sense, this new tool is geared towards professional and institutional investors looking to digitally structure and price tailored structured investment ideas, either individually or in bulk, over the internet. On its initial release version, the web-based solution will allow investors to structure the main equity structured payoffs: autocalls, reverse convertibles and participation structures, as well as credit tranche structured products, all through a web-based front end that will also allow users to save their preferences and request pre-trade indicative documentation.
BBVA epricer is another step forward in the digital strategy that BBVA defined for its equity derivatives business a few years ago, and it complements its existing offering of digital connectivity via Bloomberg DLIB's portal and email based pricing service.
Daniel Hernandez, Head of E-connectivity Sales at BBVA commented that "BBVA is very clear in its strategic direction to continuously provide clients in all segments with the best digital solutions and experience possible. BBVA epricer will enable us to expand our customer reach significantly due to its web-based nature, and deliver an easy to use and simple global solution that can be used by our clients in any region around the world. "
For Mahesh Bulchandani, CEO and Director for Europe at FinIQ, "this partnership with BBVA is an important milestone for FinIQ, complementing our regional coverage given BBVA's extensive footprint in Europe and Latam, as well as strengthening our EMS (Execution Management System) capabilities."
The benefits of the digitization of structured products are twofold: on one hand, it has allowed the industry to enhance its service levels and improve response times, and on the other, provide more clarity and transparency to the market through the standardization of processes and data.
As new technologies such as Distributed Ledgers, Big Data Analytics and Artificial Intelligence evolve, BBVA expects that these will start feeding into this industry as well.