BBVA, picked as one of the first companies to try out the new regulatory sandbox
Of 67 projects submitted in Spain, the General Secretariat of the Treasury and International Finance only picked 18 initiatives for the new controlled testing environment (regulatory sandbox). BBVA's project "Innovation in online consumer loan signings" is one of them.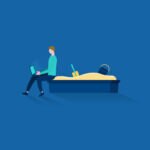 The General Secretariat of the Treasury and Finance published the list of projects that were favorably pre-assessed to be the first generation of initiatives to use the new regulatory sandbox. BBVA is among the 18 companies that will be able to use this space to roll out innovative projects in a safe environment. 
So far, the application of new technologies to financial services was a highly complex, protracted process in order to meet the requirements of supervisors. The sandbox is designed to allow innovative services to be tested in coordination with regulators and without jeopardizing users' rights, while speeding up deployment and implementation.
"BBVA has always believed that the regulatory sandbox is an essential tool to accelerate innovation in financial technologies. Being among the first companies to use this controlled trialing space is an advantage to obtain supervisory approval to apply new technologies, which in this case will transform consumer lending," said Gonzalo Rodríguez, head of transformation at BBVA Spain.
The project put forward by BBVA aims to improve the user experience when signing up a loan online by shortening process times and applying new fraud detection technologies. "If our trials in the sandbox are positive, they could lead to a regulatory change that will benefit customers and the financial system," said Rosa Hervás, head of the BBVA Consumer Finance Spain Factory.
The decision to submit this candidate project for the sandbox was the outcome of an internal BBVA process involving all business areas to identify segments that are undergoing a major transformation, such as loans linked to e-commerce purchases. "The financing business is going through a time of change, driven by increased regulatory pressure, low interest rates, and, above all, the entry of new competitors. Fintechs are leveraging new technological capabilities and gaining increasing market share," said Hervás.
With this new project, BBVA aims to create a system that is embedded with online retailers so they can offer attractive financing more simply. This will give them an edge to increase sales.
The testing of this project in the new regulatory sandbox will take a few weeks, as there are still some requirements to be met. The General Secretariat of the Treasury and Finance reminded candidates that selected projects must demonstrate compliance with current regulations on the processing of personal data, anti-money laundering and financing of terrorism, and protection of financial services customers.