Last week, BBVA held the first Open Talks event in Portugal. Experts from Portugal's innovation and fintech ecosystem gathered at the Tivoli BBVA Theater to share their insights and discuss the transformation challenges facing the country's financial system.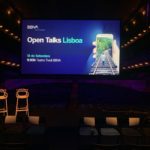 "BBVA's open mindset is what allows us to choose the best products in the market and collaborate with the best partners," said BBVA Portugal Country Manager Luis Castro e Almeida, who delivered the welcome speech of the event held in Lisbon. Castro e Almeida emphasized that this requires engaging with the innovation ecosystem, which is a source of inspiration, and that "a good way to start talking and connecting having this type of events," he added.
The goal of BBVA's Open Talks is to bring together technology and finance experts to inspire and support local startup communities and discuss successful fintech ecosystem trends across the globe. In 2019 to date, BBVA has held 11 talks in eight cities in six different countries.
The Lisbon event was the first one held in Portugal, a country that's home to a bustling innovation and fintech community. "From BBVA Open Innovation we're keeping an eye on the Portuguese ecosystem. Bringing BBVA Open Talks to Lisboa is just another step in our intent to reach out to this innovation hub," said Ainhoa Campo, Global Head of Open Innovation at BBVA.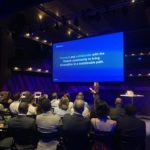 Ainhoa Campo, Global Head of Open Innovation at BBVA, during her speech in Lisbon.
In recent years, the country has been improving its global position in the ICT development index.  Portugal is also becoming an increasingly startup-friendly nation, and currently ranks 29th of 190 countries in the Ease of Doing Business list published by the World Bank in 2018. Startups now benefit from simplified licensing and special legislation designed to make life easier for tech and innovation businesses. "The current innovation ecosystem has created a huge potential in the country's technology industry," said BBVA's head of Open Innovation.
New challenges and opportunities
Speaking before an audience that included many entrepreneurs and experts from the country's fintech ecosystem, Ainhoa Campo emphasized that innovation is part of "BBVA's DNA," and that this collaboration with startups is tremendously valuable for the bank. "We facilitate collaboration with the fintech ecosystem because it is a sustainable way to integrate innovation into everything we do, one that forces us to step outside our comfort zone to face business challenges from new points of view," she said.
The event also included a presentation by IBM representatives Jorge Soares and Paulo Rodrigues Silva, who explained the potential impact of artificial intelligence, quantum computing and blockchain technologies on the future of digital financial services. Also, a discussion panel consisting of representatives from the startup and fintech ecosystem focused on the future challenges and opportunities for Portugal's entrepreneur community in terms of innovation. Andreia Madeira, head of Communication and Open Innovation at BBVA Portugal moderated the panel and also acted as host of the event.
To conclude the event, Pedro Muñoz, head of Open Innovation in Spain, took to the stand to explain how the BBVA Open Marketplace platform works. This platform allows connecting directly ecosystem solutions with the bank's business units Muñoz invited all attendees to connect to BBVA through this platform, and to follow the upcoming BBVA Open Summit event, that will take in Madrid next month.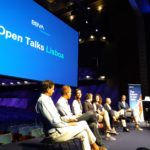 Members of the panel consisting of representatives from the Portuguese startup and fintech ecosystem.